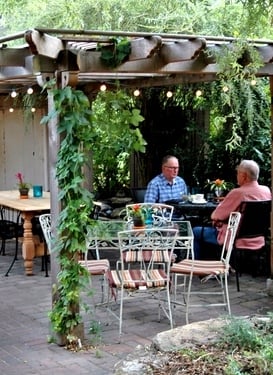 The Scene: For a small town—population about 900—Shepherdstown has a big personality. Many of the well-preserved brick buildings date from the Revolutionary War era. West Virginia's oldest town—turning 250 next year—is so picturesque that is our region's answer to Tuscany's hill towns.
What to See and Do: Some 30 locally owned shops attract visitors with their one-of-a-kind merchandise. Check out O'Hurley's General Store and Dickinson & Wait fine-crafts gallery. Shepherdstown also has a lively arts scene—from poetry readings to live music to an annual film festival; for a calendar of events, pop into the visitors center at the corner of Princess and German streets or see Sheperdstown's Visitors Center Web site. And the town is just a few minutes' drive from Antietam National Battlefield.
Where to Eat: For a locally sourced lunch, make reservations at Stone Soup Bistro [Editor's Note: Stone Soup Bistro changed its name to Bistro 112 in May] . On weekend mornings, you can buy picnic fare at the town's farmers market, then spread a blanket in Rumsey Park, whose bluffs overlook the Potomac River. Other carryout options include comfort food from Betty's Restaurant, British fare from Devonshire Arms Cafe & Pub, and organic delicacies from Blue Moon Cafe.
Speed Dial
O'Hurley's General Store
205 E. Washington St.; 304-876-6907
Stone Soup Bistro
112 W. German St.; 304-876-8477
Dickinson & Wait
121 E. German St.; 304-876-0657
Betty's
112 E. German St.; 304-876-6080
The Devonshire Arms Cafe & Pub
107 S. Princess St.; 304-876-9277
Blue Moon Cafe
200 E. High St.; 304-876-1920