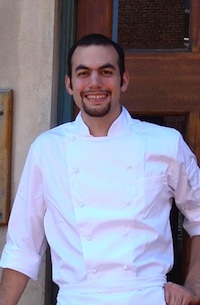 Tim Carman at the Washington Post broke the news Monday that Daniel Giusti, the talented 27-year-old executive chef of 1789, is leaving his post August 28. His next venture: unpaid work at Copenhagen's Noma, which was rated the best restaurant in the world by S. Pellegrino this year and last year. Giusti recently spent time in owner Rene Redzepi's kitchen during a two-week stage, when he swept floors and worked only in the prep area. He can't get paid until he gets a Danish work visa, but he says he'll stay for a year, regardless of money. Until the Clyde's group can find a new head chef, Brian Stickel—who has worked at 1789 in the past and is slated to head up Clyde's in-the-works 800-seat restaurant in downtown DC—will oversee kitchen operations at the Georgetown institution.
Also from the Washington Post—this time from Tom Sietsema—comes news that Sushiko owner Daisuke Utagawa has hired a chef to oversee his forthcoming ramen shop, Daikaya, in Penn Quarter. He has tapped Katsuya Fukushima—best known for his work at Minibar—who went on a three-city tour in Japan with Utagawa and business partner Yama Jewayni. Fukushima was born in Japan and lived there until he was five years old. Read more about Daikaya here.
On the heels of his new seafood-focused restaurant, Watershed in NoMa, and a cafe at the Corcoran Gallery of Art, chef Todd Gray, chef/co-owner of downtown DC's Equinox, has more projects in the works. And he's going international: Eater tells us that Salamander Hospitality, which employs Gray as its culinary director, is taking over the Fishing Lodge Cap Cana in the Dominican Republic. Come October 13, there'll be a cafe similar to Market Salamander in Middleburg, as well as a restaurant called Bistrot. And that's not all: After October, Gray and Salamander Hospitality will work on two more restaurants for the Fishing Lodge.
President Obama, who has eaten at Ray's Hell-Burger twice during his term, once again showed his love for the humble patty when he lunched at Ted's Bulletin Wednesday. Eater reports that he visited the Capitol Hill retro diner around 1 PM and ordered a cheeseburger and fries as well as a house-made Pop-Tart. According to the Daily Mail, he left a whopping 35-percent tip. Last week, the President stopped by Good Stuff Eatery, a favorite of Michelle Obama's.
Not everyone shares the First Lady's burger taste. Monday, Serious Eats writer J. Kenji Lopez-Alt tried a patty there and determined that it "was at once tasty, and soul-crushingly, maddeningly, frustratingly terrible." And he doesn't stop there. "Like a child star who ends up doing second-rate sitcoms his whole life, Good Stuff's offense is its failure to fulfill its potential." While waiting in line and watching the staff cook the burgers, Lopez-Alt had a number of "WTF Moments." The laundry list of burger-law infringements is long: the cooks pre-sear the patties, inconsistently season them, leave the beautiful browned crust behind on the grill, "[squeeze] the life out" of the meat, and press down on the buns.
Okay, just one more Obama item: The James Beard Foundation, whose culinary awards are like the Oscars of the restaurant world, has come up with a new set of honors, the Leadership Awards. The inaugural list of recipients includes First Lady Michelle Obama; the foundation writes that her Let's Move! campaign "has an ambitious but important goal: to solve the epidemic of childhood obesity within a generation."
On a sad note: WTOP reports that the Cleveland Park Irish pub Ireland's Four Fields is shuttering after 35 years in business. The owner, Frank Hughes, says the economic "monthly demands" were the restaurant's undoing. He also said that he'd like to reopen elsewhere.
On Thursday, August 18, you can get the first taste of Chocolate City Beer, DC's second production brewery (DC Brau launched earlier this year), says the Washington City Paper. The bar RFD in Penn Quarter is hosting a party at 9 PM with $4 Chocolate City pints.
Subscribe to Washingtonian
Follow Washingtonian on Twitter
Follow the Best Bites Bloggers on Twitter
More>> Best Bites Blog | Food & Dining | Restaurant Finder