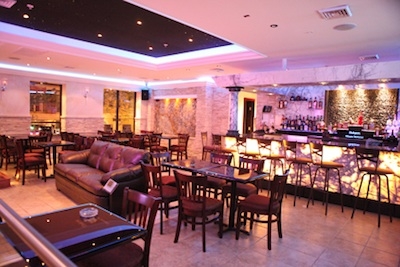 The Prince of Petworth posted a reader complaint yesterday about Dukem, one of the mainstay Ethiopian restaurants on U Street, opening a second floor dining room and applying for a 24-hour service license. "Why do they feel the need to be open 24 hours a day?" asks the reader. We checked in with the restaurant to find out.
"There's no place you can eat breakfast around the clock on U Street," says Getachew Zewdie, a manager at Dukem. The restaurant is already working on a 24-hour breakfast menu if the permit comes through with dishes similar to those already on the morning menu: kinche (creamy crushed wheat, the Ethiopian equivalent to oatmeal); scrambled eggs with tomato and peppers; and shredded injera tossed with lamb stew. And of course, plenty of coffee.
Dukem is also waiting on a permit for the second floor dining room, which they plan to reserve for private events.
PoP commentators battled it out over what 24-hour breakfast could mean for the neighborhood (noise! crime! heartburn!), but Zewdie says the service isn't meant to encourage an all-night party.
"After people drink, they need to cool off, and have some coffee, tea, and food to sober them up," says Zewdie. "I don't see any problem as long as we don't serve alcohol." (There's no move to extend liquor service, which ends at 2 AM on weekdays and 3 AM Friday and Saturday).
Zewdie says the Ward I Advisory Neighborhood Commission has already approved the extended license, but there's a hearing on August 22nd with the District's Alcoholic Beverage Control Board for all objectors before a new permit is granted. If all goes in favor of the Ethiopian restaurant, your 5 AM inerja craving can be satisfied starting sometime this fall.
Subscribe to Washingtonian
Follow Washingtonian on Twitter
Follow the Best Bites Bloggers on Twitter
More>> Best Bites Blog | Food & Dining | Restaurant Finder