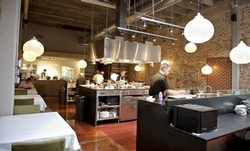 The media has been buzzing over RJ Cooper's newly opened Rogue 24, but Eater DC's news of the restaurant's "reservation agreement" (i.e. dining contract) didn't generate the good kind of press. Stipulations in the document—to be completed 72-hours prior to arrival—included voiding the reservation if a party is 30 minutes late (and charging the party in-full); banning cell phones or cameras in the dining room; and asking the diners to choose both their menu and beverage pairings up front. Post-uproar, Cooper announced a new, toned-down "guest questionnaire." Read more about Rogue 24 here.
The Washington Business Journal reported that Anthony Lombardo, executive sous-chef at Casa Nonna, will fill Dan Giusti's kitchen clogs at 1789 after he heads off to Copenhagen's Noma. The new toque has an Italian cooking background with stints at Galileo in DC and Villa Maiella Ristorante in Italy. He can clearly handle the heat of the kitchen, but can he eat like Giusti?
Celebrity chef Bobby Flay debuted his first Washington eatery on Tuesday, Bobby's Burger Palace, so there's yet another spot to get hamburgers and booze-infused milkshakes. The media caught every moment: the epic lines, photo ops (bad and worse), and the "crunchified" burgers. Read more about it here.
Bethesda magazine confirmed that Bubby's deli in Bethesda has closed. We were fans of the pickle bowl and chicken-fried chicken livers, but owner Jeff Manas told Table Talk that "We just couldn't make the deal."
The food truck Phonomenon had a short-lived run in DC, but the controversy over its closing looks like it'll hang around longer. The Washington Post's Tim Carman has details on the battle between college student/co-owner Rachel D'Ruan and her partner, and you can also read D'Ruan's side on her Tumblr page.
Subscribe to Washingtonian
Follow Washingtonian on Twitter
Follow the Best Bites Bloggers on Twitter
More>> Best Bites Blog | Food & Dining | Restaurant Finder