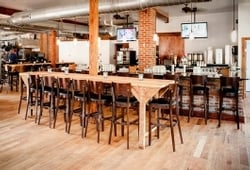 It seems like there's no end to the drama surrounding Shaw's Tavern. Just after the gastropub opened earlier this month, it received a citation from the Alcoholic Beverage Regulation Administration, and customers dwindled as it waited for its liquor license. And just before the start of dinner service on Friday, owner Abbas Fathi shut down the operation in what former chef John Cochran calls a "knee-jerk" way.
"He didn't have the the professional fortitude to tell everybody, so I had to tell everyone they lost their job," says Cochran, who stepped down even though he was one of the few salaried staff members invited to stay.
Firing practices weren't the only behavior that Cochran found troublesome. The chef says he witnessed signals of poor management that made him uneasy from the start. He notes there were arbitrary deadlines that led to cutting corners—i.e. opening before a liquor license was attained—and "random spending" on flourishes like a fancy logo. Meanwhile he asserts that items essential to getting the restaurant up and running, such as a ventilating hood for the kitchen, fell by the wayside. Cochran also finds fault with former general manager Steven May, who was fired after ABRA alleged he tampered with documents used to obtain alcohol before a license was granted, and for serving alcohol without a license at two pre-opening parties.
"I went to the general manager [May] three times and said 'are you sure you want to do these parties?'" Cochran says. "At that point I'm assuming that we have a one-day permit or other license. He more or less said to me: I own this place, I can have a party in it."
May was dismissed from Shaw's Tavern after the ABRA citation, but he adamantly contests the allegation that he tampered with documents or was even wrong to host the parties, which were for charities. He tells us that at the time of the events—one was held for the ANC 2C's "safety walk," the other for WEAV, an organization that empowers women against domestic violence—Shaw's Tavern was a private building that was "pseudo-under construction" and didn't have any of the licensure to qualify it as a restaurant.
"I still hold tight to the idea that we didn't do anything wrong," says May. "It was no different than opening up your two-car garage to people, other than that we were in the process of building a restaurant there."
May says he has no regrets about helping the charities, but he has stepped out of the scene at both Shaw's Tavern and Engine Company 12, the equally conflicted, yet-to-open venture in the Bloomingdale neighborhood that's also owned by Fathi, in a space leased from property owner Brian Brown. The eatery struggled with liquor licensing under May before Shaw's Tavern even opened, and it looks like more trouble lies ahead.
A 29-page investigative case report from ABRA regarding Engine Company 12's application for an ABC license focuses heavily on the disputed pre-opening parties at Shaw's Tavern, asserting that "Shaw's Tavern management also altered an ABRA document in order to mislead ABC licensed wholesalers into selling alcohol to the establishment." The report also calls into question the serving of alcohol at a spring fundraiser held at the Engine Company 12 property. Brown argues that he "personally authorized . . . the facility for a fundraiser" and that Fathi's lease was contingent on his obtaining a liquor license for his restaurant, thereby clearing him of involvement. Still both businesses are coming under close scrutiny.
"They're [ABRA] trying to tie Shaw's into it," May says. "They are trying to say the owners are unfit, and cascade it into guilt by association."
Fathi told us that he had an initial meeting with ABRA and the neighborhood associations for Engine Company 12 yesterday, and that a final decision could come sometime in November. As for Shaw's Tavern, Fathi says: "We're patiently waiting for ABRA's decision to open the restaurant and have all our employees come back to work."
May has returned to work outside the hospitality industry as a developer, but hopes to share his full side of the story once licensing matters have been settled. And what about Cochran, who was stepping back into the kitchen for the first time in 10 years? Before the tavern closed, Cochran says he asked Fathi if he could lease the property from him, keep the restaurant open, and possibly start fresh with the liquor license application. As the deal clearly didn't happen, Cochran is looking for a space of his own in the neighborhood or a new gig in a restaurant kitchen.
"My quest is to prove that you can serve good, healthy, quality, interesting food at an affordable price," Cochran says. "The neighborhood is dying for a restaurant like that."
Subscribe to Washingtonian
Follow Washingtonian on Twitter
Follow the Best Bites Bloggers on Twitter
More>> Best Bites Blog | Food & Dining | Restaurant Finder