Shawn Springs sold this six-bedroom home for $5 million. Photograph by David Pipkin
In Virginia:
Former Redskin Shawn Springs sold a six-bedroom, nine-bath home in McLean for $5 million. The 11,300-square-foot house has a wine cellar, bar, and home theater. A cornerback, Springs played for the Skins from 2004 to 2008.
Retired Coast Guard admiral Thad Allen and wife Pamela bought a five-bedroom, five-bath Colonial in Vienna for $1.5 million. The 6,300-square-foot house was built in 2009. Allen oversaw the federal responses to Hurricane Katrina and the Deepwater Horizon oil spill. He's now a senior fellow at the RAND Corporation.
Republican heavyweight Chris Cox and wife Rebecca Gernhardt Cox sold a six-bedroom, six-bath Colonial on Glen Drive in Alexandria's Belle Haven neighborhood for $1.4 million. The house listed for $1.6 million and was on the market more than a year. Chris Cox represented California in Congress from 1989 to 2005; from 2005 to January 2009, he was chairman of the Securities and Exchange Commission. He's now a partner at the Boston-based law firm Bingham McCutchen.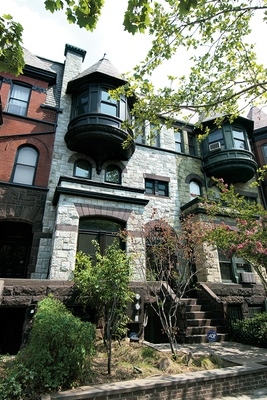 In DC:
Michael Kinsley and Patricia Stonesifer, along with Stonesifer's daughter Sandra, bought a four-bedroom, six-bath Victorian near Dupont Circle for $2.5 million. The seller was interior designer Lori Graham. The house has a top-floor master suite with a "midnight kitchen" and a roof deck with outdoor shower. Kinsley is an editorial adviser for Bloomberg View, a new opinion section of Bloomberg News, and is founding editor of the online magazine Slate. Patricia Stonesifer, former chief executive of the Bill & Melinda Gates Foundation, is chair of the Smithsonian Institution's board of regents.
Former United States CEO of Volkswagen Stefan Jacoby and his wife, Roberta Bantel, sold a four-bedroom, five-bath Federal-style house on Q Street in Georgetown for $2.2 million. Jacoby is now CEO of Volvo.
Lawyer Robert Reznick sold a five-bedroom, five-bath Colonial on Sedgwick Street in Spring Valley for $1.9 million. The house has three fireplaces and a home office. Reznick is a litigation partner in the DC office of Orrick.
Banking executive Frank G. LaPrade III bought a five-bedroom, four-bath house on Newark Street in Cleveland Park for $1.7 million. Built in 1896, it has original architectural details such as Palladian windows. LaPrade is chief enterprise-services officer at Capital One.
Former Channel 9 news anchor Tracey Neale sold a Federal-style home on 33rd Street in Georgetown for $1.3 million. Built in 1865, the former carriage house has three bedrooms and three baths. Neale founded Veronica's Story, a nonprofit that advocates for vulnerable children.
Journalist Katherine Boo and her husband, professor and scholar Sunil Khilnani, sold a five-bedroom, four-bath Victorian on O Street near Logan Circle for $1.1 million. Boo is a staff writer for the New Yorker; Khilnani is director of South Asia Studies at the Johns Hopkins School of Advanced International Studies.
Some sales information provided by American City Business Leads and Diana Hart of TTR Sotheby's International Reality.
This article appears in the September 2011 issue of The Washingtonian.