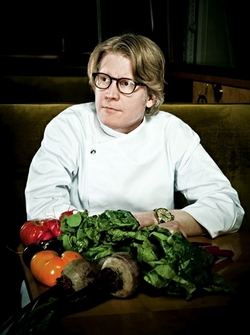 Rob Weland, arguably the most talented low-profile chef in the city, has left Poste Brasserie after seven years—news we first broke last night, via tweet.
A restaurant known for its instability when Weland arrived—he was the third chef at the Penn Quarter restaurant in a year—became a model of consistency and quiet excellence. It earned 2½ stars in our most recent guide to the area's 100 Best Restaurants.
Weland created an organic garden in the back patio, staged "Poste Roasts" featuring lusty head-to-tail dining at a communal table, invited diners into the kitchen for his experimental 20 Bites menu and ran one of the city's best brunches.
A book project on sustainability will occupy some of his free time, but Weland doesn't plan on being gone from the scene for long. The chef is "actively pursuing" a place of his own, and is busy lining up investors for the new project. "I have some support," he says, "but not all of it."
Though he was leery to discuss a restaurant that exists only in his head at this point, it sounds as though diners can expect something different from the upscale but unfussy fare he was putting out at Poste.
"I want to expand on what we did—expand on it, and refine it."
Subscribe to Washingtonian
Follow Washingtonian on Twitter
Follow the Best Bites Bloggers on Twitter at twitter.com/bestbitesblog
More>> Best Bites Blog | Food & Dining | Restaurant Finder