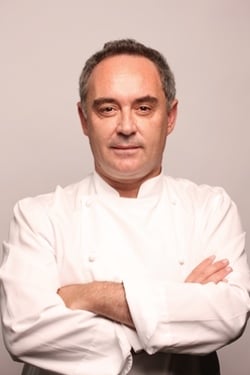 Ferran Adrià —the revolutionary chef behind the recently closed El Bulli in Roses, Spain —stopped in Washington yesterday to promote his first-ever home cooking book, The Family Meal, and to give a talk with José Andrés, the DC-based small plates king who got his start in Adrià's kitchen.
"I cannot tell you how I feel having a home right here in this city—this community has given me so much. If I could give back a little bit, it is to have Ferran here in this city," Andrés said as he introduced his mentor to the stage at Lisner Auditorium.
Andrés—who is known for stealing the show with jovial outbursts—was unusually quiet as Adrià discussed the origins of cuisine and addressed perhaps his most frequently asked question of late: why close a such wildly popular restaurant?
"The system doesn't allow us to be successful for too many years," Adrià told the audience. "Robert De Niro can't win five Oscars—and one has to understand that's how the world works. We knew there would be a time to step down because we've been winning Oscars for 15 years."
The restaurant, which shuttered two months ago, will become the El Bulli Foundation, a creative center slated to open in 2014. The sustainably-built campus will host an archive, museum, and kitchen for chefs and thinkers to come together.
"We were reaching the point of routine," Adrià said of El Bulli. "'Routine' doesn't mean monotony, routine is knowing what's going to happen before it happens. Probably we achieved something that was almost perfect … but the worst enemy for creativity is routine."
We caught up with the Pepsi-sipping, jeans-wearing chef at Westend Bistro to discuss—with the help of a translator—traveling, Andrés's early years, and his least favorite interview question.
Where are you eating in Washington?
"Wherever José Andrés takes me. He's one of my best friends."
Do you have a take on the DC dining scene from either talking to José or your visits here?
"I've been a total for or five times, and obviously I've eaten at wonderful places. But it would be frivolous to give an opinion because I don't know it that well, and I end up being guided by José. To be able to give an opinion you need to experience the restaurants. If there are 2,000 restaurants in Washington, if you have at least 20 percent good restaurants, that's a good amount."
How is it coming here and seeing your influence on Andrés and his restaurants?
"I'm quite proud of it because José is one of the best ambassadors of El Bulli, and portrays the spirit of El Bulli best."
Do you have any early memories of working with José?
"That was 23 years ago! So much has happened since that I can barely remember. José has a better memory. I have a very short-term memory. But it was a very different time. At that time there were only seven or eight people in the kitchen."

How would you characterize him as a chef?
"He's a very complete cook because on the one hand he's a very creative cook, and on the other hand he's an excellent business manager. That's very rare to find those two things in one person. He's capable of doing avant garde cuisine, Chinese cuisine, Mexican cuisine. Obviously I see him in a different way than most people. On my first trip to Washington, José wasn't a famous person and people didn't know him well. For me, he's still that same person."
When you travel, do you look for more avant-garde eating experiences, or something more like a family meal?
"I basically look for good food. If you're eating seafood every day you'll end up getting bored by it, and if you're eating pizza every day you'll end up getting bored by it."
I read that you don't get the chance to cook at home often. Will you now that El Bulli is closed?
"One of the luxuries I have in life is to eat out, so why stay in and eat at home? It's not about eating at $200 restaurants every day, but I prefer eating out more than owning a car."
Your two favorite luxuries are travel and food. Do you have any trips or meals you're looking forward to?
"Those are the only two. I've been to China this summer, and I'm very excited to go back again to get to know more about Chinese cuisine. The other places that are exciting for me are Latin America: Peru, Mexico, and Brazil are doing very exciting things. I think we'll see many exciting developments coming from that part of the world."
You said in an interview that it's important to ask yourself questions every day. What are you currently asking?
"Lately I've been intrigued about the way we eat, more than the actual dishes or food itself. I'm interested in avant garde, creative cuisine, but I'm interested in cooking and eating in general. So I ask myself often: What is the best time to eat? What is the best number of diners at a table? The way in which we eat, whether we use our hands, a fork, chopsticks, things like that."
You've done have many, many interviews. Which question do you least like getting?
"I get bored by telling people how I started off as a chef. It's all on the internet."