A very, very early look at Chop Chop, a design-your-own stirfry spot soon to open in Del Ray. Photographs by Kyle Gustafson
It looks like Del Ray will be getting more than smoked brisket on the block that is home to the soon-to-open Pork Barrel BBQ. The Washington Business Journal reported back in February that two restaurants—a sushi lounge and a pan-Asian spot with a Chipotle-like ordering system—will go into the space adjacent to the 'cue joint. Restaurateurs "Mango" Mike Anderson and Bill Blackburn—both behind Mango Mike's—are working on all three projects. While Pork Barrel founders Brett Thompson and Heath Hall aren't affiliated with the Asian spots, we discovered on a walk-through that the three restaurants will share a prep kitchen, storage space, and an entryway.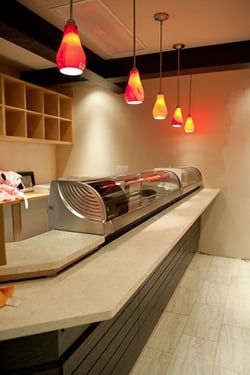 First up will be Dragon, a small, crimson-painted sushi lounge with space for low banquettes. Chefs will prepare sushi behind an L-shaped bar, which will serve cocktails made with sake and shochu. While Pork Barrel is meant to project a y'all-come-by neighborhood vibe with its large bar, self-seating, and family-friendly fare, Dragon is targeting date-nighters and adults on an evening out.
The theme changes one door over with Chop Chop, Anderson and Blackburn's first fast-casual place. The 2,000-square-foot space will have a wok-station where cooks will make a slew of pan-Asian dishes—such as stirfries and pad thai—to order. As at Chipotle (or, more fittingly, ShopHouse) customers can custom-make their orders along a counter. Asian beers and wine will be served too.
The finishing touches are being put on Pork Barrel, but Dragon and Chop Chop are still under construction and at least a month away from opening. Check back with us soon for previews of all three restaurants.