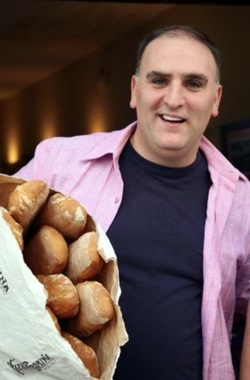 The President and First Lady celebrated their 19th wedding anniversary last weekend over dinner at Restaurant Eve. Though details of their menu have been kept hush-hush, Eater DC recounts a nice interaction between the President and chef Cathal Armstrong's brother, Edward. And Obama Foodrama has gathered plenty of excited tweets from the restaurant along with some of the Obamas' wedding pics. Not everyone was feeling celebratory—City Paper griped about the choice of a Virginia spot, asking: "where's the love for DC businesses?"
Chef/restaurateur José Andrés announced he is partnering with the Ritz Carlton Hotel Company for an upcoming restaurant at the luxe Dorado Beach in Puerto Rico. The eatery, set to open in December, will serve what Andrés says is a menu "rich with the flavors of the islands." Andrés is one of the most recent DC chefs to go off-shore, joining Equinox's Todd Gray, who's developing a concept in the Dominican Republic.
Sad news for lovers of Colombian food: Jaymar Colombian Breeze is up for sale. The family-owned Gaithersburg restaurant has been a staple on our Cheap Eats list for three years, and told us they've put the restaurant on the market with no plans to open elsewhere. They haven't had an offer yet, so get your arepas and chicharrón while you can.
The Prince of Petworth discovered what could be a "very very awesome" charcuterie and salumi eatery opening next to the Petworth Fire Station. Though the restaurant, called Three Little Pigs, isn't slated to debut until November, its Web site is up and running and has plenty of menu details—think porchetta sandwiches, house-made sodas, and smoked ribs, all from local farms like Polyface Farms and Paris Barns.
H Street Great Street posted that the Big Board—a burger joint—opened for "Neighborhood Appreciation" night on Wednesday, and has plans for a grand opening this Saturday. The place will have a stock market-themed beer system.
We took a look inside Red Dragon and Chop Chop, a Del Ray sushi lounge and fast-casual stir fry venture from Mango Mike's restaurateurs Mike Anderson and Bill Blackburn. The duo also co-own the soon-to-open Pork Barrel BBQ, which shares a prep kitchen, walk-in storage, and entrances with the otherwise unaffiliated Asian eateries. The spaces are still under construction, and Blackburn says they're slated to open after Pork Barrel rolls out its barbecue this month.
Arl Now has the details on Pete's Apizza's new dining discount, and for once, it isn't coming from a daily deals site. Mondays, diners can get a 50 percent discount on the New Haven-style pies —without any sort of coupon. Co-owner Joel Mehr hopes the special will drum up return business in a way that a "flavor of the week" discount can't. If all goes well, look for more self-launched promos in the future.
The Mount Vernon Triangle blog ("Not Just Parking Lots Anymore") has news of more development in the area: Caldo, an Italian restaurant, is coming to 300 Massachusetts Avenue, Northwest. Ther restaurant's Web site is already up, and the menu features items such as clams casino, lasagna, and tiramisu.
Cafe Saint-Ex has reopened its kitchen after a four-week closure. The revamped menu looks like it's worth checking out: veal cheeks over creamy grits; General Tso's sweetbreads; and maple-smoked pork belly with frisée and a poached egg are among the options.