As told to Shane Harris

In the spring of 1985, Ronald Reagan was coming off one of the biggest landslide election wins in American history. Then boom, about three months after he was inaugurated, a controversy erupted. West German chancellor Helmut Kohl had invited the President to visit a German military cemetery near Bitburg as a gesture of reconciliation between two countries that had fought in World War II. Michael Deaver, one of Reagan's closest aides, had gone to Germany to prepare for the visit, and because there was snow on some of the gravesites, he never saw that there were former members of the Nazi SS buried there.

See Also: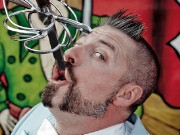 The Jewish community in the United States was outraged. Reagan was accused of giving aid and comfort to anti-Semites by going to Bitburg. But Kohl had put a huge amount of his personal influence on the line, and Reagan had said he would come and was determined to keep his word.
I had worked on the 1984 campaign and then returned to California and my law practice. One day the phone rang—it was Deaver. He said, "We've arranged a speech at the site of the Bergen-Belsen concentration camp, and the President and First Lady want you to work on it." The speech would be a way for the President to demonstrate what was in his heart—that he had no sympathy for the Nazis—and he wanted it to be a kind of eulogy for the victims of the Holocaust.
In all the years I had worked for Reagan, I had never seen him so disconsolate and wounded. His shoulders were slumped. He'd been taken aback by all the criticism. Usually I went into these situations and had a bunch of ideas ready. In this case, he started right in saying, "No one among us can understand what happened in these camps." I wrote that down. Those words became the basis for the opening of the speech.
Reagan was seeking expiation for what was perceived about him. He had to reclaim a sense of integrity. He talked on, and I just took notes as fast as I could.
When I watched the address on television a week and a half later, I saw that Reagan adopted this amazing cadence. His demeanor and his face gave you a sense of his genuine distress.
The Bergen-Belsen speech became one of the most memorable Reagan ever gave, and his biographer Edmund Morris wrote that it was the best. The President called me a few days after he got back from Germany. He said, "I want to thank you for your assistance with this speech." Then he chuckled and said, "I think I could have been elected president of Germany."
Ken Khachigian, former chief speechwriter for President Reagan, is a senior partner in the Orange County, California, office of Brownstein Hyatt Farber Schreck.
This article appears in the November 2011 issue of The Washingtonian.