Judge Brook Hedge with Jeremy Moon and Bryan Legaspi on their wedding day. Photograph courtesy of Brook Hedge
As told to Mary Clare Glover
March 3, 2010, was the first day same-sex couples could apply to get married in DC. I was slated to go to a conference in Williamsburg and was home packing. I got calls from colleagues and my staff saying, "You really have to come and be a part of this history. There's so much joy here."
I went down to the courthouse. Everybody was lined up outside the marriage bureau. People had been there for hours—I think the first couple got there at 3 or 4 in the morning.

See Also: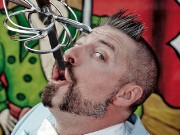 Inside, people were seated to wait their turn. Each time a couple got a license, everyone would clap. The clapping would ripple down the whole line. It was so diverse—there were people with children, there were all races, men, women. It was remarkable.
I was just watching—I didn't want to insert myself in any way—and then a guy came up to me and said, "By any chance do you know someone who could perform our marriage?" I asked him when he was thinking of getting married and he said Tuesday, which was the first day after the three-day waiting period. I said, "I'm a judge and I can do it, but I'm in trial, so we'd need to start early in the morning." I wasn't even thinking about being the first. I told him to come to the court around 8:45 in the morning.
I made brownies and got two bunches of roses and put them on the bench. The couple's names were Jeremy Moon and Bryan Legaspi. They had been together seven years, and they worked at the Office of Management and Budget in the White House.
They came in tuxedos, and they were charming and delightful. You could tell they were in love. They were emotional—when you're denied a right or a privilege that another class has taken for granted, you cherish it so much more.
I pronounced them legally married, and then they said, "Do you mind if we run downstairs to the marriage bureau and get this filed right now? Because we think it might be the first."
Suddenly it clicked: My God, I've just performed a same-sex wedding—the first in the DC courthouse. Who would have thought this could happen in my lifetime?
The emotional high hit me as we finished the ceremony. I sort of keep myself together to perform a wedding—you have to be detached to make sure everything is on key. But after they left, I thought, wow.
I wasn't alive when women got the right to vote, but I suspect it was a similar feeling. I do remember the civil-rights movement of the '50s and '60s, and I remember the joy when barriers were broken. That was the joy I was feeling.
Brook Hedge is a senior judge with DC Superior Court.