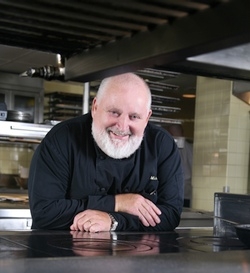 Exciting news for Michel Richard—and meatball—fans: the esteemed chef is opening a Penn Quarter restaurant entirely devoted to the dish, appropriately dubbed Meatballs. Prince of Petworth has some early details on the menu, which include beef, lamb, chicken, crab, and veggie balls that can be customized to go with spaghetti, salads, and grinders; sauces include alfredo, marinara, and morel-mushroom. Eater reports that on Sundays Richard will offer a family-style takeout deal for eight to ten people that includes a full meal and a piece of Richard's new cookware. The place is slated to be up and running in the next two weeks.
In chef shuffling news, we learned that pastry chef Douglas Hernandez is out at Bibiana. Hernandez originally resigned in order to take some personal time, but was immediately snapped up by the Michael Mina Group (the company behind Bourbon Steak) for three upcoming restaurants in the Four Seasons Baltimore. Hernandez joins former Rogue 24 pastry chef Chris Ford, who also landed in Baltimore after being recruited for a position within two hours of parting ways with RJ Cooper.
The Washington Post's Tom Sietsema reports that the Penn Quarter branch of Jaleo, which is nearly 20 years old, is getting a facelift. The José Andrés restaurant will close for a two-week renovation and will reopen with a foosball table, orange and yellow tiling, and beaded curtains.
Dining Bisnow broke the news that Harry's Tap Room in Clarendon is breaking off from Centerplate, the national hospitality chain that's also the biggest food service provider for the NFL. Restaurateur Michael Sternberg will run the eatery independently under a new name, Market Tavern, and has brought on Richard Beckel, a chef from the Caucus Room. The new incarnation is slated to open at the end of November, and will feature a downstairs lounge for drinks and lighter fare as well as an upstairs chophouse.
There's a new bakery coming to town. Huffington Post says that Marvelous Market and Breadline founder Mark Furstenberg is working on a place downtown to be called Bread Furst. The American bakery will have some things you'd expect (pastries, pies, several varieties of bread) and some unusual quirks (a drive-by pick-up service where you can pull up to the curb, shout your name, and have your order brought out). Breakfast and lunch are also on the docket for the projected February opening.
Wal-Mart has been accused of many things, but now that it's attacking local bagels, the Washington Post thinks the mega-chain has gone too far. One of the author's favorite bagel haunts, Bagel City in Rockville, is doomed to go the way of many small businesses when the 'Mart comes into town—basically, towards displacement and closure. Get your cinnamon raisins while you can.

Living Social Gourmet had its inaugural launch this week in Washington. The local daily deals company is testing out the market for pricier coupons at high-end restaurants. The first offering was for a $250 multi-course meal at CityZen (which includes wine, tax, and tip). The Wall Street Journal notes that the invitation-only service will offer deals less frequently, but look for upcoming offers like a visit to a restaurant's cheese cave and a sustainable farm tour and tasting.
Prince of Petworth checked in at the currently shuttered Banana Leaves in Dupont, which was devastated by a fire back in March. Renovations are still underway, but the owners say they may be back serving curry laksa and Peking duck within two months.