As told to Marisa M. Kashino
It was a sunny morning last March, and after all my preparation I felt reasonably calm in the car. My wife, Helen, was with me. She'd bought me a new briefcase for the occasion, and I clutched it like a lucky charm. Our driver took a wrong turn, and we got to see the cherry blossoms. I was just thinking about keeping my head clear and drinking in the moment. I really wanted to win this case for Walmart.
We were asking the Supreme Court to reverse a lower court's decision to allow a huge class action accusing Walmart of gender discrimination to move forward. Walmart has been my client for seven years, and I had felt from the beginning that this class action was wrong and that the company had been unfairly attacked.
There was a huge crowd outside the court, but I tried to stay focused. I had represented news organizations in the Michael Jackson criminal trial and had been there the day Jackson danced on top of an SUV outside the Santa Barbara courthouse, so this was relatively staid by comparison.

See Also: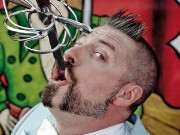 The people at the Supreme Court—the staff from the marshal's and clerk's offices—and my clients, friends, and colleagues who were there made it seem like a festive and friendly atmosphere. There was an entirely new layer of excitement and intensity that doesn't exist when you argue at any other court. It really is a one-of-a-kind experience—the kind of thing you live for as a lawyer.
I got to argue first. The best judges in the world were in front of me. I had my outline of key points to make, and I was very focused on making sure I reserved time to give a rebuttal to my opponent's argument. If you burn through your 30 minutes, you don't get more. So my strategy was simple: As soon as the white light came on indicating I had five minutes left, I would politely answer whatever question was on the table and then reserve the remaining time.
Justice Ruth Bader Ginsburg said that this case reminded her of a lower-court decision from the 1970s that neither side had cited in the briefs. I was thinking: This could be trouble. But thankfully, she described the facts of the case, so I was able to respond to her questions. At the end of the argument, Justice Sonia Sotomayor asked me a question that allowed me to state that Walmart paid women the same as men. That's how the argument ended.
I had second-chaired a lot of Supreme Court arguments, so it was a good feeling to have done one myself. Months later, I was sitting in my office early in the morning at home in Los Angeles when I got the call from the Supreme Court clerk's office saying the decision had come down. We had won. It was a very good day.
Theodore Boutrous Jr. is a partner with the law firm Gibson, Dunn & Crutcher.