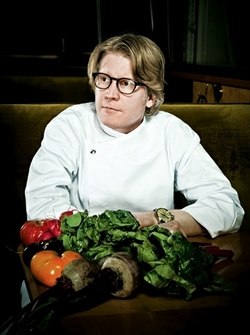 Last month, our own Todd Kliman broke the news that Chef Robert Weland was leaving his job at Poste in Penn Quarter's Hotel Monaco to pursue a book project and work on opening his own restaurant. Meantime, however, he's signed on to be executive chef at Cork Wine Bar in Logan Circle, as the Washington Post's Tom Sietsema first reported Monday.
When we talked to him Thursday, Weland said that the chance to work with Cork owners Diane Gross and Khalid Pitts had a lot to do with his decision to take the position. "They have a really positive attention to detail," he said. He also admired the couple's work ethic and has been a fan of the "very successful" restaurant for some time.
As for his book about sustainability and seasonality, "it's something that's a slow process," said Weland, but adds that the project is not on hold.
Also not on hold: opening his own restaurant, though that's pretty much all Weland wanted to say about that.
The chef began working at Cork this past Tuesday. He replaces Ron Tanaka, who has moved on to New Heights in Woodley Park. Wednesday was his first night.