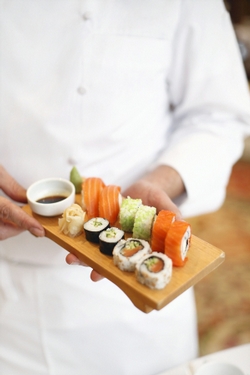 Update: Come again? Best Bites just got word from Zhou's team that there's yet another name change. The new choice: Masa Hibachi Steakhouse & Sushi. As in Masa, the Michelin-starred restaurant in New York by chef Masa Takayama that's about two blocks from Nobu 57? Zhou's rep says the name has been trademarked, but stay tuned.
Nobu Hibachi Steakhouse and Sushi, we hardly knew thee. The Washington Business Journal first broke the news in late September that the Japanese eatery was headed into the old Ceviche space in downtown Silver Spring, prompting questions as to whether it was related to celebrity chef Nobu Matsuhisa and his wildly famous, globe-spanning chain of Nobu restaurants. And if not, uh, what?
Now, a rep for the restaurant's owner Eric Zhou—who also owns East Moon Asian Bistro locations in Bowie and Alexandria—tells Best Bites Zhou has decided to change the name in an effort not to "confuse the public." Meanwhile, a rep from Nobu corporate confirms the company's legal department was "involved in the change."
Zhou apparently toyed with the name "Nobuka" before abandoning the dicey word altogether and going with the current choice: Haruhana Hibachi Steakhouse & Sushi. Now let's hope the sushi and/or hibachi chains Haru and Benihana don't get their feathers ruffled.
Because in fact, the new restaurant is a lot more like Haru and Benihana than "heaven on earth and sex on a plate" (as Kate Winslet once described Nobu). The pan-Asian menu mixes sushi, cooked dishes, and Japanese grill fare. Individual chefs will sear steak, lobster, scallops, and shrimp for diners at eight large hibachi tables; other guests can sit at one of two bars or in the main dining room. Sushi offerings will be similar to East Moon, which specializes in creative rolls stuffed with shrimp tempura and kiwi or tuna wrapped with spicy crab. Elaborate plates arrive decorated with ice sculptures, flashing colored lights, and steaming bowls.
Haruhana Masa is slated to open in February 2012.