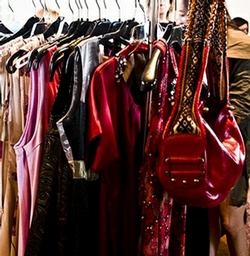 Popping up all over the District, clothing swaps are an excellent (and cheap!) way to refresh or replenish your wardrobe. You know the drill by now: A typically under-$20 ticket and a bag of old clothes gain you entry, but what happens next can only be described as chaos—and it's every woman for herself. So when Refinery29 pointed us in the direction of DewDropDC's swap at Hillyer Art Space this Saturday, we started strategizing. To help you navigate the trenches and bring home the best goods, we've enlisted personal stylist Kaarin Moore of DC's Closet Caucus, who worked her swapping magic on Beth Klein in our September makeover feature. Read on for her ace advice!
How to Dress For Success
Clothing swaps typically do not provide a private place for you to try on items, so start with a base of leggings and a cami, which will keep you covered while you change. Add something that's easy to pull on and off, like a sweater dress or skirt-and-shirt combo, over top. "Avoid anything with a lot of buttons, snaps, or zippers," says Moore—they take too much time to undo.
What to Bring
Swaps are an excellent opportunity to relieve your wardrobe of excess baggage. If your weight has fluctuated recently, bring the clothes that aren't your current size. And make sure you pay attention to quality. "Don't bring anything you wouldn't be proud to give to a friend," says Moore. If a piece has a broken zipper, a permanent stain, or any damage that can't be easily fixed, it's best to leave it at home. Smaller defects like missing buttons are generally okay.
Read the Fine Print
Know the rules of the swap before you arrive. Some swaps, for example, don't allow off-season clothes, and others will only let you leave with as many items as you brought in (click here to see guidelines for Saturday's swap). Still have questions? Get in touch with the organizers. "The people who hosts swaps are usually lovely," says Moore—not to mention clearly community-oriented.
The Right Mindset
Swaps are a great excuse to round up your friends. Make an event out of the night! If there's a bar nearby (some swaps even serve cocktails), grab a glass of bubbly with the group beforehand to loosen up. Once you're inside the swap, things will go as smoothly as possible if you've got realistic expectations.
"Know that it's going to be chaos and just ride it out," says Moore. The cost of admission was probably less than you paid for a majority of the pieces in your closet, so even if you walk out with one item, you're walking out ahead. Remember to breathe and have fun!
How to Shop
Moore recommends using clothing swaps as a chance to experiment with your style. Contrary to nearly all shopping advice you've ever received, this is not the time to go in with a preconceived plan of pieces you're hoping to score. "If your focus is too narrow, you miss the serendipity of it all," says Moore. "Instead, think of it as an opportunity to push your style forward in a really low-hassle way." Is there a trend you're interested in trying but don't want to buy off the rack? If you see it at the swap, scoop it up!
Once the swap has started, Moore says it's best to first grab for fabrics and patterns that catch your eye—that narrows down the pile you'll have to search through to find items in your size. Starting with size first may lead to you missing out on items you really love.
Swapping Etiquette
What do you do if two people zero in on the same item at once? Moore abides by the "first touch" rule—the first person to touch the item gets the option of looking at it first. If you really like something that someone gets to first, be vocal about it. Let that person know you're interested in the item should they decide not to keep it.
"Ninety-eight percent of people are really kind about it," Moore says. An absolute believer in what she calls "good clothing-swap karma," she also makes sure to return things to their original piles if she decides they aren't going to work.
Your Post-Swap Plan
Once you've removed yourself from the madness, take time to try on your new pieces in the context of the rest of your closet. If you really can't see yourself wearing some of the items, remember to pay it forward—donate the pieces to charity, pass them on to a friend, or bring them to the next clothing swap.
A Final Word of Advice
"Wash everything when you get home!"
The DewDropDC clothing swap is happening this Saturday, November 12, at Hillyer Art Space (9 Hillyer Ct., NW; 202-338-0680). Tickets ($10 to swap) are available here.