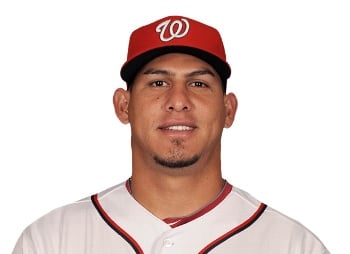 It is too soon to know a lot in the kidnapping of Washington Nationals catcher Wilson Ramos. What is known is basic: According to authorities, he was kidnapped early Wednesday evening at his home in Santa Ines, Venezuela, by four gunmen. It happened in front of his family. They took him away in a green SUV, which was later found abandoned in a nearby town. Ramos was spending the American off-season at home playing for the Aragua Tigers of the Venezuelan Professional Baseball League. Kidnappings are epidemic in Venezuela—hundreds occur annually, and the number is climbing each year.
For an expert opinion on the situation, we spoke with Chris Voss, who spent 24 years at the FBI specializing in international kidnapping and hostage negotiations, including eight cases in Venezuela. He's now a professor at Georgetown University, teaching the art of negotiation at the McDonough School of Business, and is also CEO of the Black Swan Group. We talked to him about kidnapping, both in general and in Venezuela in particular.
What were your first thoughts about the Ramos kidnapping?
Obviously it was a targeted kidnapping. There's a difference between a targeted kidnapping and one of opportunity. A targeted kidnapping involves a selected victim, a selected time.
Are the Venezuelan authorities up to the task of finding him?
No. Kidnapping is a problem most effectively dealt with by civilian law enforcement—the police. But Chávez [Venezuelan president Hugo Chávez] has done everything he can to give control to the military to weaken the police. The military does not have the method of operation or training to deal with a kidnapping.
What distinguishes kidnappers in Venezuela?
It doesn't matter what country you're in; kidnapping is a business. It has to be looked at as a business. For criminals to stay in the business of kidnapping, they have to release the victims when they get paid.
Do you think Ramos's life is at risk?
If this is a ransom kidnapping, then the risk of harm is low.
Where do you think they took him? The jungle? Someplace remote?
Since law enforcement is so lax in Venezuela, it's possible to stay in the cities, to go to criminal areas in the ghetto that are controlled by criminals. That's all you have to do.
Do you think they know he is a player for an American team, and if so, does that make him more vulnerable?
If targeted, yes, they know who he is. Depending on the group, they may look at him as a particularly lucrative opportunity. If they know he is a baseball player they would probably happily take additional [ransom] funds from the Nationals.
Is it unusual that almost 24 hours passed with no contact from the kidnappers?
No, but they should be hearing relatively soon. It's also quite possible somebody has heard and they aren't saying.
What are the most critical developments in the first 24 hours of a kidnapping?
Establish proof of life in the negotiations. Make clear to the kidnappers that in order for them to get paid, the victim has to stay alive.
What is the biggest mistake rescuers make?
To be in a hurry, to be sloppy.
Update: Via e-mail we asked the Washington Nationals media liaison whether the team had been contacted by the kidnappers and whether the Lerner family planned to hire a private rescue/security team. As yet, there's been no reply. Nationals general manager Mike Rizzo was quoted in news reports as stating, "We will have something to say when there is something to say."