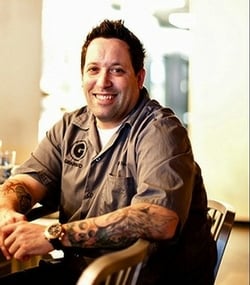 Surprise! Just a few months after opening Graffiato, Mike Isabella has plans for a Mexican restaurant in the old Hook space that suffered a fire back in June. Tom Sietsema got the confirmation, but only after Food Network star Giada De Laurentiis spilled the beans to Endless Simmer during the Metropolitan Cooking and Entertaining Show. (Isabella denied the plans to Endless Simmer, saving the scoop for Sietsema.) Eater DC has a rundown of the mini-drama that ensued, and Prince of Petworth jumps in with a rumor that Isabella may also be going Greek over on 14th Street.
Michel Richard's Meatballs finally opened in Penn Quarter this week after a few projected debut dates passed. And whaddaya know, more drama: the City Paper writes that Mark Bucher of BGR may actually be the owner behind the scenes. Bucher tells Chris Shott that his role is only advisory, but Shott continues to wonder about "Bucher's caginess."
And here's some bummer news: you won't be able to get $115 tasting menu at 2941 any more. Tom Sietsema says that Chef Bertrand Chemel is temporarily shuttering the Falls Church French-American dining room after December 31 and converting it into a Mediterranean concept. Don't expect fast-casual, but look for bare tabletops and an emphasis on grilled fare and pasta. The press release offers more details.
Meanwhile, congrats are due to Haidar Karoum. The Proof and Estadio toque took home the winning title at this year's Capital Food Fight. Here's our recap of how the whole thing went down.
The Going Out Gurus have more details on TNT, a "rock and roll" bar from Todd Thrasher. The Eat Good Food Group (Restaurant Eve, Eamonn's, PX, Virtue Feed and Grain) mixologist is opening the 30-seat spot on Columbia Pike in conjunction with the next branch of the fish and chipper, Eamonn's. Despite the fact that the watering hole is named after Thrasher's son (Tristan Noah Thrasher) the vibe will definitely be adult, with craft cocktails and loud music.
Chef Johnny Monis debuted Little Serow this week, a family-style Thai joint below Komi. Best Bites Blog checked in and learned that the doors will open at 5:30 PM Tuesday through Saturday, and that you can wait down the street with a drink for the hostess to text when a table is available. The offerings will change weekly; check out the menu each week on the restaurant's Web site.