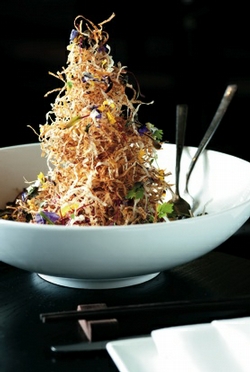 Occasionally—not too often, mind you—a person needs a break from Bud Light and hot wings at happy hour. Enter the swank Donovan House, which just rolled out $5 specials from 4 to 7, Monday through Friday at Zentan. Drinks include 21st Amendment Beers, wines, and rail cocktails made with "house" liquor (the restaurant was tight-lipped about the brands it's using). Stave off a hangover with equally priced small plates of spinach-shiitake dumplings and sweet-and-sour meatballs. (FYI, items on the regular sushi menu are also $5, or you can upgrade to a California roll with fresh lump crab for a few more bucks.)
Before bar-hopping down H Street this weekend, consider first padding your belly with discounted food (and drinks!) for a good cause. Toki Underground, Granville Moore's, and other neighborhood businesses have signed on to H Street Cares: A Week to Benefit Brainfood. Deals for Deeds is offering up to 50 percent off at participating eateries through Sunday, November 20, and will donate part of the proceeds to Brainfood, a youth development program.
Dollar mimosas, Thai chili Bloody Marys, and Vietnamese coffee: not just at the Eden Center any more. Asia 9 in Penn Quarter just started a tapas-style brunch with a special menu that includes small plates like pork gyoza, chicken pad Thai, and rice noodle wraps. Wash it down with as many $1 beverages as you see fit. (We don't judge.)
The daily deals site Living Social continues its expansion (domination?) of the culinary scene with two new features this week. Instant Ordering allows members to get meals delivered from casual spots like Sala Thai and Shawafel. If $5 for $10 worth of kebab isn't your thing, there's an upscale option called "Room Service" on Thursday and Friday nights. A courier (see? fancy!) will bring a complete meal from a higher-end spot like Kushi to you door, complete with real plates and cutlery. Check out Living Social's press release for more info.
Washingtonian reader favorite Bethesda Bagels opened its second location in Dupont today, sensibly named "Bethesda Bagels of Dupont." Check out the spot's Facebook page, where you can print out a coupon (expires Sunday, November 20) for a $2.49 deal: a bagel with cream cheese and a small coffee. Here's the menu so you can plan ahead.