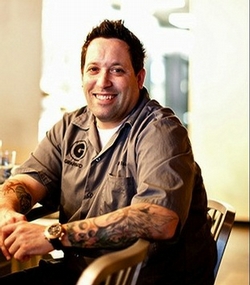 Good news for oyster lovers: Chef/restaurateur Jeff Black tells Best Bites he's planning to open the largest raw bar on the East Coast in his yet-to-be-named venture in Merrifield's Mosaic District. We first learned that local restaurants like Taylor Gourmet and Matchbox were headed to the development—slated for September 2012—back in April. The Washington Business Journal adds another to the lineup this week: Cava Grill, the fast-casual Mediterranean concept from the Cava Mezze team.
You won't find reservations for Mike Isabella's Graffiato on OpenTable anymore—the Web site's local competitor, City Eats, announced that Isabella has come to their side. (If you want to know why direct from the chef's mouth, there's an advertisement . . . I mean, an informational video.) Isabella's reasoning is that City Eats is "the future," but City Paper's Chris Shott highlights a post from the financial blog Seeking Alpha that suggests the real reason may have something to do with OpenTable's $525 monthly charge.
Michelle Obama dined at Eatonville again last night, and, naturally, the restaurant tweeted excitedly about the visit. General manager Michael Woods was more tight-lipped during a followup with Eater DC, out of respect for the First Lady's privacy. He did reveal some of the impact Obama's visits have had on the two-year-old Southern restaurant, which includes diners wanting to sit in her chair.
Chef Bryan Voltaggio tells Tom Sietsema that he's ramping up for a busy 2012. Voltaggio's new ventures include North Market Kitchen, the Eataly-esque market concept that's back on track; a bistro in Chevy Chase called Range; and Lunchbox, a 30-seat cafe in Frederick offering "fast food done right" (meaning soups and sandwiches drawing ingredients from local farms). Oh, and also a diner in one of Frederick's former car dealerships. Good thing he got Volt ink, his coffee table cookbook with brother Michael, out of the way in 2011.
Jorge Pimental, owner of the much-missed Sabor'a Street truck, tweeted this morning that the concept is going brick-and-mortar. When the truck shuttered in September, Sabor'a's publicist told us that a restaurant was the end goal. Specific details are being kept under wraps for now, but check back with Best Bites Blog for updates.
Chef Robert Wiedmaier stopped by our offices this week to host a Thanksgiving-themed online chat. In addition to dishing on techniques for cooking a moist turkey and making super-delicious gravy, he spilled the beans about an upcoming restaurant with former Blue Duck Tavern chef Brian McBride. The "animal butchery concept" will have both a market and a sit-down restaurant (think BlackSalt, but with meat instead of fish).
The City Paper has an update on Michael Landrum's Ray's the Steaks East River that runs contrary to speculation that the restaurant was going to close. Landrum tells Chris Shott that a simple reformatting is underway. He also calls the Post story "deliberately misleading."
No soup for U! At least not from Teaism. The Prince of Petworth reports that the Asian teahouse is taking its noodle soups, salty oat cookies, and teriyaki plates across the river to Alexandria. The restaurant was supposed to land at 12th and U streets, Northwest, but issues with financing prevented the deal from going through.
Uniontown Bar and Grill owner Natasha Dasher may have sold a lot of coke, and not the soda kind. The Post Local writes that the Anacostia restaurateur—who opened one of the few successful higher-end dining rooms in the neighborhood—has been charged in a federal drug trafficking investigation. The FDA reportedly tracked 65 kilograms (roughly the weight of an adult cheetah) from Texas to her office in Fort Washington.
And finally, the Prince of Petworth proves that it's a terrible idea to tempt fate and name half of your restaurant "dysfunxion."