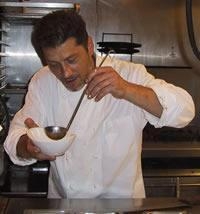 Back in September, Washington Business Journal's Missy Frederick broke the news that local chef and charcuterie master Jamie Stachowski is setting up shop in the old Griffin Market space in Georgetown. We drove by the corner shop on 28th Street, Northwest, recently and spotted the "for lease" sign still in the window, so we checked in with Stachowski on the progress. Not to fear: The project is still on track for a possible January 2012 opening.
"We gutted it and are renovating it from ground zero," says Stachowski. "It's going to be a corner candy store for carnivores."
The decor, which he describes as the "Hansel and Gretel house of meat," involves a speckled red epoxy floor, enamel walls, and other "shiny" touches (sadly, the health department won't allow for lardo windows draped with edible prosciutto curtains).
You will, however, be able to eat in the 1,000-square-foot space. In addition to cases filled with the stuff carnivores' dreams are made of—heirloom pork, local beef, seasonal game, and four or five rotating varieties of freshly made sausages—there will also be sandwich bar. The theme, according to Stachowski, is old-school sandwiches piled high: house-made liverwurst, chopped chicken liver, an Italian-style cold cut sub, and "the best pastrami this city will know." There will also be a selection of prepared foods available to go, as well as the charcuterie the chef is known for. The lineup? "Everything from the humblest Polish ham to the finest French pâté, produced by me," says Stachowski.