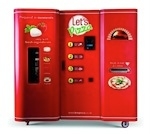 "They spent ten years on this? Was there not something else they could do with their time?"
—Morning Passport host T.J. Holmes reacts to the news that a decade of research went into an automated pizzaiolo called Let's Pizza. The machine, developed by an Italian company, begins by kneading dough, then adds sauce, cheese, and a choice of three toppings.

Watch the CNN segment here.