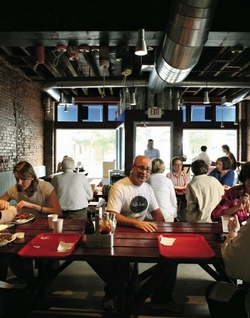 There was terrible news from Heritage India in Dupont over the weekend: The Washington Post reports that a fight inside the late-night eatery spilled out onto the street; 34-year-old Jhonte Coleman was fatally shot, and five others were injured. The victim was a witness to the brawl and hadn't been involved in the dispute. Since then, the restaurant—which has a sister eatery in Glover Park—posted a statement on its Web site expressing condolences for Coleman's family as well as its side of the story.
But that didn't appease the Alcoholic Beverage Control Board, WJLA says it suspended the restaurant's license. As the Washington Examiner reminded us, this wasn't an isolated incident for Heritage; there have been five reported cases of violence in or outside the restaurant in the past year, including charges of sexual abuse and robbery.
Pork Barrel BBQ has finally arrived after two whole years! Check out our preview and hunger-inducing photos of the Del Ray 'cue joint, which is already attracting cupcake-shop-size masses (fortunately, it's a pretty big space, so you won't have to stand outside).
The temporarily closed Evening Star Café is getting a new toque. Tom Sietsema has the scoop on chef Jim Jeffords, a Georgia native who spent the past four years working his way up the line at CityZen. When the Alexandria spot reopens, look for revamped decor (Mason jar light fixtures!), a rooftop herb and vegetable garden, and a menu loaded with Southern-style eats such as risotto with brined tasso and mustard greens, and mini pecan pies.
Remember Steak and Cheese, Michael Landrum's ode to steaky, cheesy goodness? We do, too, because it just opened last month. But this week, ArlNow says Landrum changed his mind (again) and has turned it back into Ray's Hellburger Too. Anyone who developed a craving for the juicy sandwich (yep, that's us) can find it at Ray's to the Third across the street.
Tackle Box in Georgetown, which suffered a fire alongside sister restaurant Hook in June, is back up and running as of Tuesday. The casual seafood joint tweeted the reopening, but confused followers still couldn't figure out when the re-opening would actually happen. Clarity arrived via Facebook.. As Tom Sietsema (kind of) first reported, Hook will become Bandolero, Mike Isabella's Mexican concept.
The Best Bites Blog (that's us!) caught up with chef Jamie Stachowski, and learned that he'll be opening his "candy shop for carnivores" (i.e., Georgetown meat market) sometime in January. In addition to fresh local meats and seasonal game, there will be a sandwich counter with classics like pastrami and an Italian cold cut sub.
As the old adage says, sometimes no news is good news. There were reports (mostly tweets) on Monday that a Tasty Kabob food truck worker was seriously burned by a propane tank. Turns out the cook only had minor injuries, and no explosion occurred. Tim Carman has the full rundown, plus a short update on pending food truck regulations. For more on Tasty Kabob going brick-and-mortar, head over here.
The Logan Circle/14th Street neighborhood gets another cool culinary addition this week with the opening of Smucker Farms, a market featuring fresh produce, canned and baked goods, snacks, and other items from Lancaster County, Pennsylvania. We took a peek inside to check out all the tasty Amish-Country offerings.