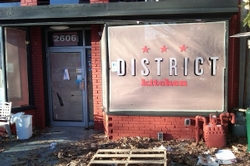 Good news from District Kitchen, the highly anticipated eatery headed to the old Jandara space in Woodley Park: The doors may open the week before Christmas. Co-owners Jawad Saadaoui (until recently the GM at Redwood) and chef Drew Trautmann (the erstwhile executive chef at shuttered Mendocino) originally hoped to have the 74-seat restaurant up and running by November, but construction delays on the nearly 100-year-old building kept pushing their plans back.
The upside to all those construction blues? Lots of vintage charm. Saadaoui and Trautmann have uncovered the original brick walls and terrazzo tile flooring of the building, and topped the bar with galvanized steel. The barstools are Toledo drafting chairs, and a 1920s porcelain stove serves as a hostess stand.
Trautmann plans to change the super-seasonal offerings from week to week, so he has not yet pinned down his opening menu. Plans are underway with his purveyors to use lesser-known varieties of East Coast fish, like tautog, porgy, Maine sardines, and Pocono trout, some of which he'll roast whole and serve with a simple drizzle of olive oil and lemon. He's also planning a few house-made pastas, like fresh fusilli sauced with a "chili" of lamb and goat's-milk cheddar. Vegetarians, despair not. District Kitchen has, for you, a hearty spin on a French dip with a roasted-forest-mushroom filling and rich mushroom dipping jus, and sides like Brussels sprouts caramelized with shallots, balsamic vinegar, and maple pecans.
The local-seasonal bent carries over to the drink selection, which boasts spirits from area distilleries (Catoctin Creek in Loudon County, Richmond's Cirrus), Virginia and Maryland wines, and regional beers. Four wine kegs will dispense fresh reds and whites by the glass and half or full carafe. Saadaoui couldn't find any nearby keg wine purveyors, so he may tap varietals from California vineyards, like Tangent Albariño—but wants to use local ones when they become available.
The restaurant will open as a dinner spot only, but Saadaoui and Trautmann hope to serve brunch in months to come, a lovely prospect for warmer weather, when diners can eat on the restaurant's outdoor patio, which will seat between 25 and 30.
In the meantime, Trautmann says he looks forward to a time when he can turn his focus entirely to the kitchen. "Unfortunately, you have to have toilets before you can even think about having food."