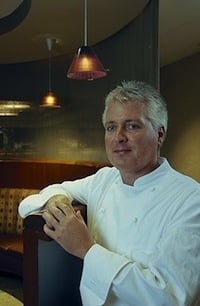 Back in April, we broke the news that Corduroy chef Tom Power had bought the building adjacent to his Shaw restaurant for a second eatery, Velour. And we just learned that Power has changed the name to Herringbone (not exactly a fabric, but a weaving pattern usually done on wool). While a herringbone suit will set you back a couple hundred, Power's vision for the 3,469-square-foot space at 1124 Ninth Street, Northwest, is a bit less swanky. In an e-mail to The Washingtonian, Power reveals the latest plan:
"The concept is much simpler than Corduroy. The menu will be blackboard and playful. We will have pizzas, pupusas, whole roast chicken, and Jersey Shore-style hot dogs. Lobster carpaccio is on the menu at Corduroy and will not be served at Herringbone, but lobster rolls will. Draft beer will be available by the liter and half-liter, but the beverage program will be more focused on wine."
Powers says he hasn't yet submitted plans to the city for approval, and estimates a late summer opening may be in the cards, which would be convenient: It's prime weather for dogs, lobster rolls, and, of course, your favorite herringbone shorts. Check back here for developments.