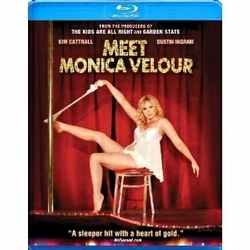 Yesterday we touched base with Corduroy chef Tom Power, and learned that he's changed the name of his upcoming casual eatery from Velour to Herringbone. The cause for the switch-up?
"Well, there was a movie about a porn star, Monica Velour, so I thought we may want to change it," says Power.
Given the association with the racy Meet Monica Velour (starring Kim Cattrall, natch), a name change seems wise. (Though, come to think of it, it's not outside the realm of possibility that there's a porn star named Herring Bone out there. But moving on.) The decor isn't fabric-focused, anyway. Power has hired the design firm Edit, also responsible for the interiors of the Gibson, Marvin, and Rogue 24, among many others, to work with the 100-year-old structure. As with Rogue, the idea is to showcase the original exposed brick and plaster. Other touches may include an A-frame skylight, a mezzanine, and a 50-foot bar.
"It'll be a mishmash of things," explains Power, "somewhere in between Stoney's and the Passenger."
Back when Power moved Corduroy from Logan Circle to Shaw and the kitchen was trying to use every scrap of food, a Salvadorian cook made pupusas, which were a hit with the guests, and Power plans to replicate them at Herringbone with pork and shredded cabbage. The chef also used to turn pizzas out of an electric oven at the original Corduroy, and thin-crust creations will be on offer at Herringbone, as well as a three-step chicken for two (brined, poached, roasted) and Jersey Shore dogs topped with mustard and sauerkraut.
But the question remains: Why does this man keep naming restaurants after fabric? Power says he want to sticks with a theme—some restaurateurs, like Robert Wiedmaier, name eateries after their kids, so why not name them after items in your wardrobe . . . or the wardrobe of whatever eclectically minded clotheshorse is wearing corduroy, velour, and herringbone?
There is, however, one fabric the chef would never consider for a restaurant name: "Polyester," he says.