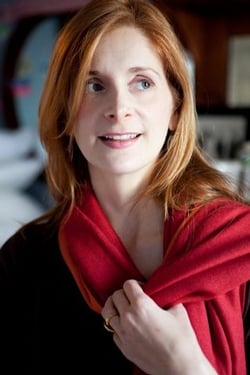 As far as food writers are concerned, Melissa Clark is living the dream. She is a New York Times columnist, a culinary mag contributor, and the author of more than 30 cookbooks, including collaborations with top toques like Daniel Boulud and White House pastry chef Bill Yosses.
Clark recently visited Washington to promote her latest work, Cook This Now, a personal record of seasonal recipes she compiled over a year of making her favorite meals for her husband and three-year-old daughter. We caught up with her at KramerBooks & Afterwords Cafe, where she dished about the essentials of good cookbook writing, favorite New Year's Eve dishes, and which local chef whips up a sauce good enough to be licked off a shoe.
You've worked on so many cookbooks. What do you think is essential to writing a good one?
I always say there are so many different paths to dinner. So what I do in this book—which I probably will do in anything I write from now on, really—is to break it down: all the other ways the dinner could have gone. I could have done this if I had this, substituted this, etc. I show people all the roads not taken. I love the roads not taken.
Is it more fulfilling to write for print or for online outlets?
I find it fulfilling to write where people read me, so wherever that medium is. I love my [ New York Times online] column, but writing this cookbook was so fun. It was really a diary of what I ate last year. The way I cook at home is simple techniques—I'm not a fussy cook—and bold flavors. This book is sort of at that intersection of easy technique and bold flavors.
In an interview with Epicurious, you mentioned your next project will be "a love letter and defense of fat." Is that underway?
It's actually morphed into a project called "Sugar, Salt, Fat, Booze: Four vices, and why America can't be moderate." We have this culture of more—larger portions, bigger things, too much food—but we don't necessarily eat the best things we can eat. I really want to look at how we became this culture of wanting more.
Fat and booze, all the good things in life! Do you have a favorite of the vices?
I love them all! I love my flaky salts, butter, lard, bacon fat, duck fat, olive oil, sugar—anything sweet. These are the things I often feel I'm asked to reduce in my cooking when I'm developing recipes, and I don't want to.
Are there any foods you really don't like?
Nonfat yogurt is my personal bugaboo; I really don't like any kind of skim dairy product. Egg-white omelets are gross. I only like chicken breasts if you add a lot of fat, or poach them, but I prefer dark meat. But I'll pretty much eat anything, and I know there's a good way to cook pretty much anything.

Any entertaining tricks or advice for the holidays?
Don't do a turkey. I feel very strongly about this for Christmas, Hanukkah, and other big family gatherings that aren't Thanksgiving. Turkeys are harder to make than a piece of braised meat, and people will like braised meat much better. Making an entrée the day before is just one of the biggest stress relievers.
What are some of your personal favorite holiday traditions?
You know what I love to do? Cornmeal blinis. They're my favorite New Year's Eve thing in the whole world. They're perfect if you're going to buy a little caviar. We love salmon roe in our house—it's great and affordable—so the combination of salmon roe and cornmeal blini is heaven, and they're so easy to make. Plus you can make them ahead, because they're perfectly fine room temperature.
Are you going to go out to any restaurants here in DC?
We went to Graffiato last night, and it was great! That pepperoni sauce? Oh, my God, I'm so making that. But I'm going to put it with squid. Squid is really good with the kind of sauce you could eat off a shoe.