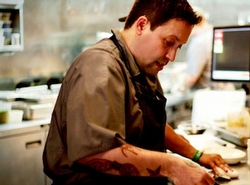 There's always a lot going on at Capital Food Fight, the charity event held each year at the Ronald Reagan Building: mulling masses, celebrity-chef emcees booming banter from the stage, and enough finger food to feed a small country. So attendees of this year's event could be forgiven for missing the video, shown on a big screen, in which Mike Isabella announced his allegiance to CityEats, a new restaurants reservation system—and Food Network partner—launching in DC. But those who caught the clip saw Isabella saying this:
"I believe CityEats is the future, and I want to be the first to let everyone know that by the end of the year, the only place to get an online reservation at Graffiato is through CityEats."
In a Washington Post article published December 4, Isabella articulated his preference for the new company over incumbent reservation system OpenTable, telling writer Tim Carman, "It'll probably be about 40 percent cheaper to go through CityEats."
That explains why he prefers the system, but why is he so eager to promote it? CityEats president Sameer Deen and Isabella both say the chef is not being financially compensated for his cheerleading, and Deen calls the spokesman role "unofficial." And in a phone interview last week, Isabella insisted he's not getting a special deal on fees related to the service. According to the chef, his incentives are: one, exposure for Graffiato via CityEats web content; and two, getting other chefs onboard so that he can continue using it and save on fees.
Beyond that, as the owner of a small restaurant, Isabella—who is currently working on the menu for Bandolero, a Mexican restaurant due to open this winter or spring in the former Hook space in Georgetown—says he related personally to Deen's ambition. "It's so hard to do something in this business," he told us. "There are so many icons."