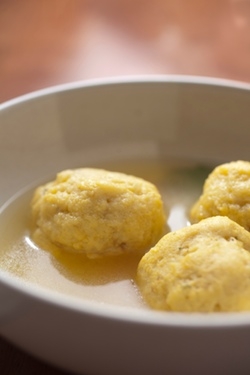 In his 2009 book, Save the Deli, author David Sax tenderly explored the vanishing world of pastrami, corned beef, and gruff, Yiddish-inflected waiters. He wasn't just writing up his meals in dimly lit diners—he was bearing witness, looking for vital signs of a once-vibrant culture as he roamed the streets of Montreal, Los Angeles, and Paris.
And then he arrived in DC.
Oy.
Washington, the Toronto-based author sniffed, has got to be the "WASPiest city in North America."
One restaurant can't erase such a perception, but Barry Koslow is aiming to try.
Koslow, who was the chef at Mendocino Grille and, more recently, at Tallula, is set to open DGS Delicatessen next summer, just south of Dupont Circle (1317 Connecticut Ave., NW) with his partners, Nick and David Wiseman of Roadside Food Projects. (The name DGS is meant to honor the District Grocery Stores cooperative—a band of Jewish-owned mom 'n' pops—that thrived in the city at the turn of the 20th century.)
The trio—DC natives all—describes the forthcoming venture in terms that allow for a good bit of wiggle room, lest the culinarily orthodox (and the other kind, as well) accuse them of taking too many liberties.
"We want to evoke nostalgia for the classic delicatessen while bringing technique into the mix to elevate these dishes and take things to another level," says Koslow.
Technique is a word almost synonymous with Koslow's name. The classically trained chef worked in a French vein for many years, and his pistachio-studded rabbit pâté, a dish he reprised at Tallula after leaving Mendocino Grille, was among the glories of the area's food scene.
At DGS, the corned beef and pastrami will be made on the premises, "brined for a week in aromatics and steamed properly," Koslow says.
Breads (and bagels and bialys) won't be baked in-house, but—possibly even better—they'll be provided by Mark Furstenburg, founder of Marvelous Market and the Breadline and the city's foremost bread baker.
The models for DGS are Mile End in New York and San Francisco's Wise Son, restaurants that have aimed to "reinterpret" (read: lighten) the gut-busting foods of Ashkenazi Jews. Count on matzo-ball soup, blintzes, pickled fish of many varieties, and even several Sephardic staples to make up the eventual menu. Joan Nathan, the doyenne of Jewish cooking in America, has been an unofficial adviser on the project, and the trio's friends and family have been inundating them with cookbooks and family recipes.
"We want to pay homage to a lot of the classics," says Koslow, "and then you'll see a little reinvention here and there."
Delis don't immediately bring to mind beer, wine, and cocktails, but there will be an extensive list of all three: "craft cocktails, craft beers, craft wines," says Nick Wiseman, invoking the term that all new and would-be restaurants believe elevates them instantly from the herd.
The last high-profile Jewish deli to open in DC was Stacks, on Pennsylvania Avenue, which took the gamble of importing its smoked meats from Montreal but never succeeded in gaining a following. It closed in 2004.
In the years since, many restaurateurs have told me privately that although they would love to see a top-notch destination for corned beef and pastrami come to DC, opening a Jewish deli was too risky a concept in a city that lacks both the food traffic and the culture needed to appreciate the cuisine.
Nick Wiseman has heard those criticisms, and though he doesn't dispute the fact that the city has never been a place to get a good pastrami sandwich, he thinks the moment has arrived to make Jewish cooking the next big thing.
"The whole market has opened up. It's not these huge six- and seven-million-dollar American restaurants opening anymore . . . Now you have these smaller, more focused restaurants like Graffiato, these neighborhood restaurants that try things. New York has always been like that, and now DC is becoming more like that, and you're seeing these soulful restaurants that resonate with people. It's an exciting culinary moment."