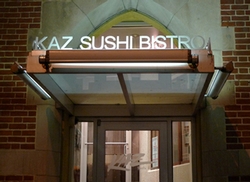 Restaurant Week isn't all about three-course, one-off "special" menus for lunch and dinner (though there are many of those—some of them special, some not so much). These restaurants think outside the dining-deals box by offering lots of choices, brunch options, and extra perks. Happy eating!
1) The Freedom to Choose
These restaurants feature abundant options.
Ardeo + Bardeo
It's as easy as one, two, three at one of our Cleveland Park favorites: Take the regular dinner menu and pick one item from veggies/small bites/soups and salads, another from pasta/seafood/meat, and a dessert. You'd do very well with a meal of fritto misto, braised suckling pig on cheddar grits, and a chocolate-pistachio tart.
Passion Food Hospitality Restaurants (Acadiana, Ceiba, DC Coast, PassionFish)
Though the appetizer and dessert options are narrowed down at four of chef Jeff Tunks's eateries—three near Penn Quarter and one in Reston—you have regular options when it comes to the lunch and dinner entrée offerings during Restaurant Week (note: the priciest items, like lobster and steak, may come with a $9 added charge). The newest addition, District Commons, is also participating in RW, but with a set menu.
Chef Geoff's
Lia's in Chevy Chase and all three locations Chef Geoff's around DC and Tysons Corner offer three choices from the regular lunch and dinner menus (items vary by location): one snack, an appetizer or soup; a burger, sandwich, pizza, or entrée; and a dessert. Want a super deal? Start out at the Chef Geoff's bar with $8 super mugs (33.8 ounces!) from 3 to 7.
Though the lunch menu is set for restaurant week at chef Kaz Okochi's Foggy Bottom sushi joint, you can choose three types of sushi and two rolls from the regular list at dinner (in addition to a set list of apps and desserts).
All right, so the five area locations of the Spanish-themed restaurant aren't offering their full menu, but they might as well be: For both lunch and dinner, guests can get their fill of unlimited tapas from a 25-deep list. Dinner-goers get one dessert (sorry, no 12-flan binge for you), but the rest is a free-for-all.
Urbana
There's plenty to choose from between chef John Critchley's lunch and dinner menus (see brunch below!)—they only have a few limitations compared with the regular offerings, and fees added for items like foie and lobster are minimal. Warm coconut-shellfish stew is a great way to start in colder weather.
2) Brunches
Don't have time to luxuriate over three courses at lunch? Several spots are running RW deals during the chillest meal of the week. The price and three-course format is the same as lunch, unless noted.
BlackSalt
This Palisades seafood haunt covers all bases with dinner, lunch, and brunch deals. Order a Bloody (they're yummy) alongside brunch, which includes items like poached eggs with crab, crawfish, and cayenne hollandaise, and shrimp and grits with fennel sausage and arugula. If you're still craving seafood, the market up front has one of the best selections in town.
Co Co. Sala
The Penn Quarter chocolate lounge dishes up a two-course brunch (plus chocolate amuse) with dishes like French toast s'mores, truffled grilled cheese, and citrus-ricotta pancakes.
Dino
If you don't have time for brunch this week, don't worry: Dino is running its RW deals through February 3. The brunch menu includes a starter, a main course such as Italian-style eggs Benedict or seafood stew, and either a dessert or a welcome cocktail.
You can fuel up before a Georgetown shopping spree at this exotically designed spot. Both American and Asian fare are on tap, as banana upside-down pancakes share space on the menu with a Korean bulgogi sandwich.
This Dupont Circle spot is offering a pretty sweet deal. You can pick any two-course combos from the regular brunch menu (an app or snack plus an entrée or omelet) and then help yourself to the "build your own Bellini bar," where unlimited French bubbly can be mixed with fresh peach, mandarin, and other fruit purées. The meal is priced at $35.11, but it could be more of a steal than your average RW dinner.
3) Little Perks
Not all restaurants are offering just an app, main, and dessert. These eateries all throw in a little extra, whether it's a snack or a whole course. (Note: small-plates spots like Agora, Zaytinya, and Masa 14 offer more courses, but in tapas-style portions.)
There're three courses at lunch, but evening diners start off with eggplant caponata, sheep's milk ricotta, and coppa crostini before embarking on the dinner menu.
While the lunch menu boasts the traditional three courses (albeit with plenty of variety), diners get a fourth at dinner—though, it must be said, many of the offerings, like Brussels sprouts and roast carrots, sound more like sides than a course.
Sou'Wester
The southern-themed restaurant in the Mandarin Oriental Hotel is planning a choice of three shellfish plates—shrimp cocktail, oysters either baked with crab or pan-fried with smoked-pepper aioli—before the three-course dinner menu.
Vento
This Dupont Italian eatery tacks a fourth course onto its RW dinner menu, offering an appetizer, pasta, entrée, and dessert.