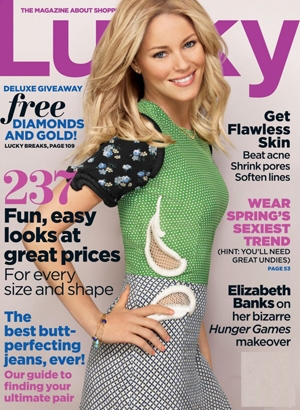 When you work at a publication that covers anything and everything Washington-related, you're always curious to see how other people size up your fair city. So the second the February issue of shopping bible Lucky magazine hit our desks, we immediately flipped to the DC shopping guide on page 48 to find out which boutiques were deemed worthy to introduce to the rest of the nation.
We love the focus on the 14th and U Street corridors. With so many boutiques flying under the radar there for so long, it's great to see them take center stage. Favorites such as Muleh, Good Wood, and Rue 14 are all present and accounted for, and the magazine even takes notice of newcomer Foundry. Georgetown, unsurprisingly, also gets a shout-out for Charm, M29, Hu's Wear, and more.
Though the list is pretty exhaustive, there are a few spots we would have suggested had Lucky called us for final edits. It's Vintage Darling in Columbia Heights is one of our perennial favorites, and Georgetown's Ella-Rue may be the consignment store we most consistently rely on for work-appropriate Tory Burch and DVF. Though barely inside the District line, there's also gifting mecca Trohv up in Takoma Park.
What else would you add to Lucky's shopping guide? Let us know in the comments!