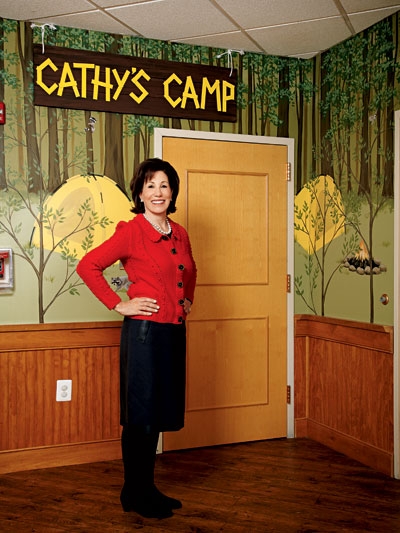 They call it Cathy's Camp to honor Catherine Reynolds, who helped pay for it. The rustic decor and wilderness scenes on the walls make kids with disabilities feel they've escaped to a world of new possibilities, including an accessible indoor pool, craft and music rooms, and bedrooms that meet their needs. But the camp, part of Jill's House in Vienna, is really a respite for their parents, where kids 6 to 17 can come for a weekend or overnight to give Mom and Dad a break.
Jill's House was founded by Reverend Lon Solomon of McLean Bible Church and his wife; their daughter, Jill, is physically and mentally disabled. Reynolds—a member of the church whose own nephew is profoundly deaf—wanted to help. "The impact of a special child on a family is something I identify with," she says.
Reynolds made her fortune with EduCap, developing a private-education loan market to help students finance college, and Servus Financial. After Wells Fargo bought Servus, she established the Catherine B. Reynolds Foundation. She has given $100 million to the Kennedy Center and endowed fellowships at Harvard and NYU for future "social entrepreneurs" to attack problems in innovative ways.
Her passion for education led to her support for DC's College Access Program, which helps students who might otherwise never have the chance to attend college. In 2004,BusinessWeek named Reynolds one of the 50 most generous philanthropists. Her impact is nationwide, but her heart is here: "If one of your goals in life is to matter, Washington provides that platform."
This article appears in the January 2012 issue of The Washingtonian.