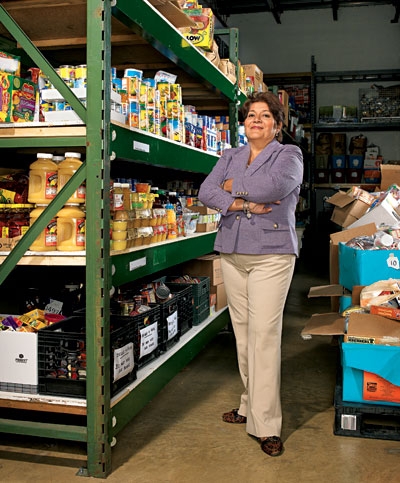 Fairfax County is one of the nation's wealthiest counties. But there's another Fairfax, where people struggle. That's where Hecda Cuadros steps in. As a Spanish-speaking volunteer, she helps families receive food and social services they're often too unsure or ashamed to get. For four years, Cuadros has volunteered at Food for Others, one of Northern Virginia's largest food pantries. "She possesses a remarkable ability to connect with anyone she meets," says volunteer coordinator Nikki Clifford.
A young mother who came to Food for Others was distressed and became more agitated during the application process. It turned out she couldn't read. Cuadros soothed her, Clifford recalls, and conversed in Spanish as if they were girlfriends. The woman's face relaxed, and Cuadros completed the application so the family could get the food it needed. "When the doors open, some people come directly to me," Cuadros says. "I know that when they leave here, they leave happy."
Cuadros came to the US in 1977, the daughter of a Peruvian diplomat. She married and raised three sons in Washington. Then she began volunteering. One of the other groups she offers her skills to is Fairfax County Court Appointed Special Advocates, which trains volunteers to represent the interests of abused and neglected children in court. She sees many families torn by violence: "They don't know how to tell their stories." The challenge, she explains, is to help the abused develop enough self-esteem to realize they deserve decent treatment.
Says Nikki Clifford: "Hecda would give others the world if she could."
This article appears in the January 2012 issue of The Washingtonian.