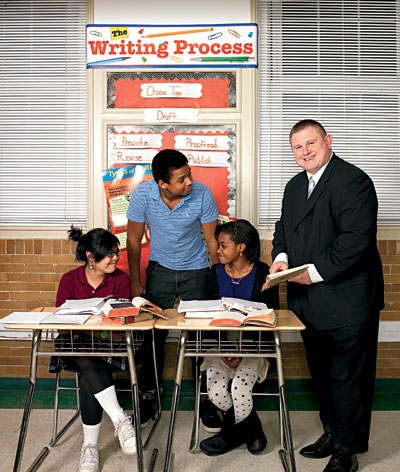 Call him Super Volunteer. By night, Robert Zagorski is a medical technologist at Walter Reed National Military Medical Center. By day, he spends most of his time—up to 250 days a year—helping nonprofits. He gets by during the week with "power naps," often in his car between volunteer assignments, and stays home Saturday nights to recover. "If you do good, you feel good," Zagorski says.
One of his causes is Higher Achievement, an after-school and summer academic program for middle-school youth in at-risk communities. On average, 95 percent of children who complete the program advance to top academic high schools, and 93 percent go on to college.
The kids call him Mr. Robert. When he teaches them literature, he gives them tough love along with grammar instruction. He also takes them shopping, stressing the importance of budgeting. It's a subject Zagorski knows well—last year, he taught 24 classes in finance and economic literacy for elementary- and high-schoolers as a volunteer for Junior Achievement of Greater Washington.
Named volunteer of the year in 2009 and 2012 by HandsOn Greater DC Cares, Zagorski has engaged in nearly every project that group operates. He's worked with DC Central Kitchen and the Capital Area Food Bank, visited residents at the Washington Home & Community Hospices, and mentored Special Olympics athletes. When Higher Achievement asks its scholars to help out in the community, Zagorski is one mentor who always shows up, says Matt Thornton, director of volunteer management.
Zagorski finished his 12 years of active military service in Washington, and he still identifies with soldiers, says his Walter Reed supervisor, Regina Van Brakle, who nominated him for the HandsOn Greater DC Cares honor in 2009. Zagorski takes over shifts at the medical center during holidays so soldiers can be home with their families.
Says Zagorski: "There are 300 million Americans. If 150 million volunteered once a week, think of the parks we could restore, the houses we could build."
This article appears in the January 2012 issue of The Washingtonian.