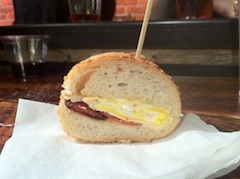 There's good news for Taylor Gourmet fans, people who like breakfast, and anyone who lives, parties, or ventures near the U Street corridor: The newly opened Taylor Gourmet location at 1908 14th Street will dish out breakfast starting on Saturday, February 4.
Co-owners Casey Patten and David Mazza delivered the news to a gathering of friends, media, and loyal followers on Thursday night. The keg beer was flowing, but the real focus was the sneak preview of samples arriving from the kitchen. Fried egg, roast pork, and caramelized onions layered on sesame-sprinkled Taylor hoagies vanished soon after leaving the kitchen, as did molten risotto balls stuffed with sausage, bacon, and American cheese, fattened up even further (in the best possible way) with a warm beer-cheese dipping sauce.
Patten says the idea for breakfast came about as he and Mazza were spending early mornings on 14th Street while preparing the new eatery, and were stuck with McDonald's as the only dining option. Currently breakfast—offered as dine-in and delivery—will be limited to weekends at that location, with hours geared to those who'll want a mid- or post-bar nosh (10 PM to 3:30 AM on Friday and Saturday) or an early-ish morning start (8 to 10:30 AM on Saturday or Sunday). The regular morning crowd may nibble on the likes of a "Reed Street"—pepperoni, egg, and sharp Provolone—but late-nighters will certainly be tempted by a "Grays Ferry": those same pork-and-cheese-stuffed risotto balls, this time on a bed of arugula, with two fried eggs and a hearty helping of beer cheese. Yum's Carryout, you may have met your match.
FULL MENU:
Grays Ferry
Breakfast risotto balls stuffed with sausage, bacon, Taylor pork roll, and American cheese, served over arugula with two eggs and topped with house-made beer cheese sauce
Signature Breakfast Hoagies:
Aramingo Avenue
Bacon, sausage, hash brown, egg, American cheese, house-made beer cheese sauce
Jefferson Street
Taylor pork roll, caramelized onions, egg, cheddar cheese
Frankford Avenue
Bacon, egg, arugula, Parmesan
Reed Street
Pepperoni, egg, sharp Provolone
Passyunk Avenue
Roast pork, bacon, egg, sharp Provolone
Queen Lane
Sausage, broccoli rabe, eggs, sharp Provolone
Lehigh
Eggplant, eggs, mozzarella