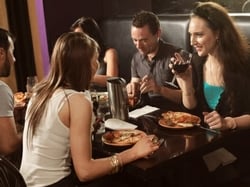 Jill Richmond, who dreamed up popular pop-up restaurant/social experiment the No. 68 Project, has transformed the concept into a full-fledged dining club. DC natives Nick and David Wiseman (who are also working with Barry Koslow on his upcoming DGS Delicatessen) helped her develop the new dining society, which works like this: A $42-per-month membership fee allows you to call up any of the Coterie's partner restaurants—they include Fiola and Birch & Barley—three days in advance and receive a five-course, off-menu tasting dinner priced at $135 a person, including tax, gratuity, and at least two pairings. The other two Coterie programs—Sunday cocktail "chats" with special guests and salon-style dinners in the fashion of the No. 68 Project—are open to the public for à-la-carte purchase; club members receive discounts on the dinners, plus three free Sunday get-togethers a month.
The Coterie evolved out of what Richmond describes as a demand "for events, for pulling together chefs, and to run a salon. The revenue is derived from membership, but we're also able to provide a platform for our restaurants. We're pretty transparent about what we take: It's literally $5 off every reservation. The restaurant receives $125 of the reservation. So we make it financially tenable for them to cook off the menu with different ingredients. The other part is that we're a network, a society, and we're constantly having a conversation with our members. We're providing a white-glove service."
The main attraction for diners? "Access," says Richmond. "You can go to Nick [Stefanelli's] restaurant any day and have a great meal, but here you'll walk away understanding the chef, and what he does, better. If you go to the salons, you'll have access to a network you may not otherwise have access to. And I don't mean that in velvet-rope terms, but that you can go behind the kitchen door."
Currently, membership is granted to anyone who pays the fee, though this may change. Richmond envisions members who are "thirtysomething-plus, pretty dynamic, in this city for work but interested in travel and food. They probably watch TED podcasts until their heads burst. They're not solid intellectuals, but they're curious people I'd count as part of my friend network." She envisions them working downtown but seeking "more in this city than just a happy hour. They probably read the Monocle," she adds, laughing.
Richmond says the Coterie will grow to include two new cities every year—up first are Philadelphia and Chicago—so members will be able to take advantage of privileges while traveling. "Each restaurant is treating our members like VIPs. They'll set aside tables that aren't available on OpenTable." Five restaurants are currently on board in Washington; Richmond is planning for 10 total. Dream partners include Scott Drewno of the Source and Bourbon Steak's Adam Sobel.
But compare the Coterie to a deal site like Gilt City or LivingSocial, and Richmond will balk. "In fact, we're the antidote to that. We asked, 'How are our partner restaurants not being serviced by these deal sites? Is it possible for them to cook for the diners who're looking for something different without squeezing the restaurants?' And that was our model."