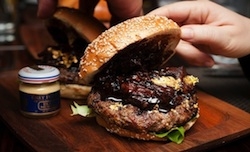 The Occupy movement should have picked another night to get the President's attention. He was not home Tuesday evening when hundreds of protesters gathered at the White House fence and someone tossed an apparent smoke bomb onto the lawn. Instead, the President and First Lady were at a nearby ritzy steakhouse, celebrating her 48th birthday.
The first couple has dined previously at BLT Steak, but news of last night's b-day dinner brought jokes about whether or not they sampled the gold-leaf-and-foie-gras-topped 1% burger, or the 99%, featuring beef patties and processed American cheese on multigrain.
Obama Foodorama has an account of the menu details, however, and it seems the first couple and friends opted for two kinds of steak (American Wagyu skirt and dry-aged New York strip), with family-style sides that included popovers and "French fries, mashed potatoes, caramelized Brussels sprouts with bacon, creamed spinach, and hen of the woods mushrooms."
Meanwhile, rumors swirl that Occupiers are lining up outside Fuel Pizza, which opens at 16th and K today. The restaurant is giving away coupons for free pizza for a year to the first 50 people in line.