Photographs courtesy of Helen Norman.
The designer: Lauren Liess, 29, of Lauren Liess Interiors and her upbeat, über-accessible design blog (which recently reached more than 60,000 readers!).
The house: A single-family, ranch-style home in McLean.
The project: Turning an overlooked formal living room and dining room into a family-friendly space.
BEFORE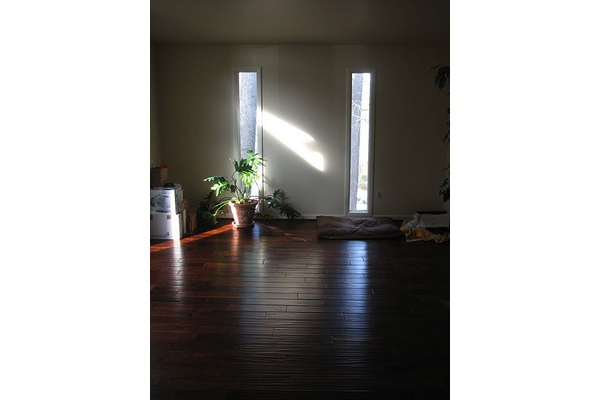 The inspiration: The wooded lot that circles the home, and the architectural elements and clean lines of the 1970s-era space. "I took cues from the natural surroundings," says Liess. "We really wanted that indoor/outdoor quality."
The challenge: The space is located right off the foyer, so Liess knew she had to create an area that was both functional and "still really pretty." And since the house is home to a family with three kids and a dog, she needed nice, comfortable pieces that could stand up to a lot of activity. "The owners also wanted a place where the kids could do homework and practice music, so it had to be multi-use," explains the designer.
The solution: Off the foyer, Liess created a casual seating area anchored by a durable jute-chenille rug that the she says "stands up to everything." She placed a project table on the far side of the room to serve as a spot for homework, bills, and board games. "Usually, that would have become another seating arrangement, but I thought the family would get far more use out of a workspace," she says. Organic elements—a capiz-shell pendant, a penshell coffee table, plants—and earthy tones kept the space feeling light and comfy. The dining room got the same treatment: Liess bolstered the clients' trestle table and chairs with a cowhide rug, and added touches of green, time-worn finishes, and a pillar-candle chandelier.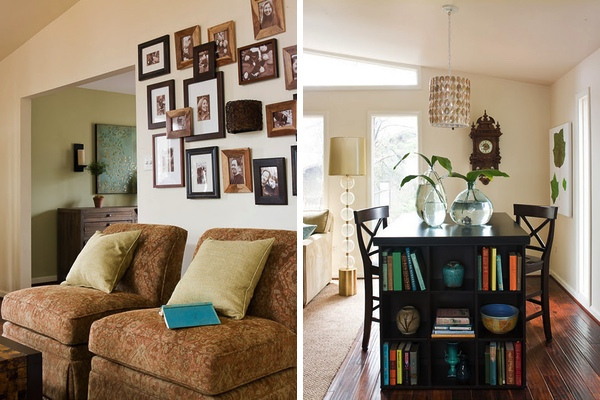 On incorporating a workspace (that doesn't look like a workspace): "Don't do a desk. Consider other pieces that can still give you that functionality, but won't look so desk-y," she says. "In this space, the counter-height table became this cool focal point—styled, of course, with interesting accessories and pops of color."
On kid-proof fabrics: "Be sure to pick a fabric that can handle a little wear and tear, like microfiber, velvet, or anything heavily patterned or woven," says Liess, a mother of two young boys. "Slipcovers also work well—if I want to do white in a room, I'll do a sturdy cover that I can toss in the wash."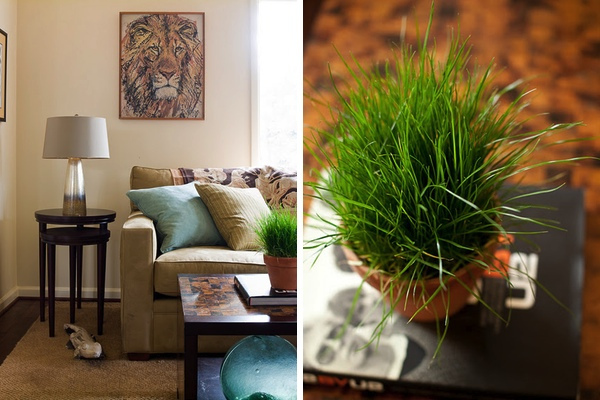 On that kitschy lion painting: "I found it, along with the globe and the clock, hiding in the clients' garage," says Liess. "I thought it worked so well in the room—it was the last thing to go up."
On her favorite design elements: "I love, love, love the blown-up leaf prints. The kids and I found poplar leaves in the yard, then I had them enlarged onto three-foot canvases," she says. The backyard also served as an impromptu photo-shoot space for the sepia-tinted family photos filling the frames on the gallery wall. "I love when clients get involved, and that was definitely the case with this family!"
Where she shopped:
Sofa: Ballard Designs, similar here
Chairs: Martha Stewart by Bernhardt (discontinued)
Penshell Coffee Table: Martha Stewart by Bernhardt (discontinued)
Jute Rug: Natural Area Rugs, available here
Fabric: Calico Corners
Work table and chairs: Pottery Barn, similar here
Capiz-shell pendant: Palecek
Table and floor lamps: Arteriors Home
Gallery frames: Pottery Barn and Target, similar here
Dining room paint: "Lion" by Behr
Accessories: Mostly vintage; Liess likes Unique Thrift in Falls Church and Treasure Trove in McLean.