Ray Mahmood opens his home almost weekly for dinner parties with guest lists that can top 100. Photograph by Melissa Golden.
Outside the largest house in a wealthy Mount Vernon neighborhood, the cars have been collecting for some time. Along with the polished Mercedes and BMWs, there are beat-up older cars with pro-life bumper stickers.
The cars belong to influential Republicans and Tea Party leaders, and they're clustered near the home of George Allen, the Republican who served Virginia in the US House and Senate and as governor. The guests aren't here to visit Allen, though—they're heading next door to the mansion of Pakistani-born Democrats Ray and Shaista Mahmood, who open their home almost weekly for dinner parties with guest lists that can top 100.
One of the largest, Shaista Mahmood says with a hint of pride, was a crowd of hundreds who came to their new property in 1999. Before they'd even finished building the house, they hosted a fundraiser for the Democratic Congressional Campaign Committee. Vice President Al Gore arrived by helicopter, landing on the Mahmoods' eight-acre lawn. Then the reception began, with high-powered guests mingling on the unfinished concrete floors.
Ray Mahmood, born Rafat Mahmood in Karachi, is among the best-connected Pakistani-Americans in Washington. A real-estate developer, he and his wife, Shaista, know the Clintons—they have had lunch with Hillary at the State Department—and have hosted Vice President Joe Biden, Congressman Howard Berman, former Pakistani president General Pervez Musharraf, and many others at their home.
The Mahmoods are also close to the political establishment in Pakistan—Ray's official title, ambassador-at-large for Pakistan to the US, was given to him by Pakistani president Asif Ali Zardari, husband of the late Pakistani leader Benazir Bhutto, herself a great friend of the Mahmoods'.
The ambassador-at-large title is nice to have, but it doesn't come with any actual responsibilities. Ray Mahmood's influence stems more from his money, his connections, and the diplomatic skills he applies to his relationships in this country, of which he's been a citizen since 1980. He's a soft-spoken, well-dressed man with ample weight on his large frame and hair that he dyes black to cover the gray. When he speaks, he doesn't especially command attention; if anything, it's his determination not to draw notice that people remember about him.
A master of backroom diplomacy who knows how to bring the right people together, Mahmood has become known in Washington as a big player in South Asian foreign policy.
"This is a guy who has President Zardari on his speed dial," says Virginia congressman Jim Moran, a friend of the Mahmoods' for 36 years. "The Clintons respect his opinions, as do a lot of people. Without any actual position, he's risen to a higher level than I have in politics."
Mahmood doesn't have ambitions of the sort that many in Washington do—he doesn't plan to run for office or seek an appointment, here or in Pakistan. He's already living out his dream: helping to shape policy between the two countries that matter most to him. It's a role that has become increasingly important as the US relationship with Pakistan has devolved into a full-blown foreign-policy crisis.
Ray Mahmood often says he worked his way up from nothing. His business success began with a Sunoco gas station he bought in 1975 for $5,000 in Alexandria's Del Ray neighborhood. Back then, Del Ray didn't have the affluent small-town feel that it does today; it was a rundown place without a lot of prospects. The $5,000 he paid for the station represented two years of savings he'd made working—during the week at the Pakistani Embassy and on weekends at a convenience store—while taking night classes at the USDA Graduate School. No one thought the gas station was a good investment.
But putting $5,000 into a company—any company—and hiring employees was, at the time, the first step toward applying for a green card. As business picked up, Mahmood secured a green card for himself. After he married Shaista in Lahore, he was able to get one for her. He bought more gas stations, including the land on which they stood.
Mahmood believed that anything was possible in America.

Mahmood believed that anything was possible in America. When talking about his adopted country, he peppers his conversation with phrases such as "land of opportunity" and "the best country in the world."
He hasn't abandoned his native Pakistan—it's the main focus of his political work—so much as he has decided he's more American than Pakistani. He feels comfortable advocating for Pakistani-Americans and their causes but doesn't want to represent the Pakistani government. He says he'd never consider becoming the official Pakistani ambassador to the United States, in part because he believes that would require giving up his US citizenship, which is unthinkable. "We know someone who gave up his US citizenship for a posting and tried for years to get it back," Mahmood says. "He died before he could."
Mahmood likes to tell a story about an afternoon not long ago when he saw George Allen standing on his back deck with another man he couldn't quite place. They were staring out at Mahmood's house and beyond to the Potomac.
Allen invited Mahmood over and introduced his friend—Mitt Romney. Mahmood slows down the pace of the story when he gets to this part, as though to savor the telling: "I'd never met Romney before. So he said his hellos and then he asked, 'What do you do, Ray?' And I said, 'Look at me! Look at this place, this neighborhood, this view. What do I do? I live the American dream!' "
Being next-door neighbors has led to an unlikely friendship between Allen and Mahmood. Their wives have followed suit: Susan Allen and Shaista Mahmood often chat in their yards, where Susan spends a lot of time gardening, and the Mahmoods let the Allens use their tennis courts. Ray Mahmood hasn't ever voted Republican, but in his semi-official role as political conduit, he makes an effort to be nonpartisan, and George Allen has introduced him to many conservatives.
"We quite regularly attend charity fundraisers at their beautiful home," Susan Allen says. She pauses. "Political events, not so much. I always know that if there's a lot of cars in their driveway and we haven't been invited, it's because they're hosting a Democratic fundraiser."
In 2006, the Mahmoods had a fundraiser for George Allen's senatorial campaign. Susan Allen says they have on occasion been invited to come over on evenings when they were outnumbered by Democrats. But she adds that Ray "doesn't ever want to put anyone in an uncomfortable position. He is very diplomatic and would never make you feel as though you didn't fit in, even if you didn't."
The warmth between the Allens and the Mahmoods makes it seem all the stranger that what undid Allen's seemingly inevitable Senate reelection campaign several years ago—and ended his hopes of a 2008 presidential run—was his use of a pejorative word to refer to a South Asian. At a campaign rally in 2006, Allen called a young man of Indian ancestry, who was working for his opponent's campaign, a "macaca." It became one of those "YouTube moments," recycled endlessly on cable news.
Shaista Mahmood says she and Ray never believed Allen was biased against South Asians or any other group: "We never talked about it—we wouldn't want to bring up something so awkward, but we also don't see the need to pick up on the bad things."
Shaista says she and Ray are staying on the sidelines of Allen's 2012 Virginia Senate campaign, in which he's running against another of the Mahmoods' friends, former Virginia governor Tim Kaine.
Next: "It's hard now to believe how good things were between our countries just a few years back"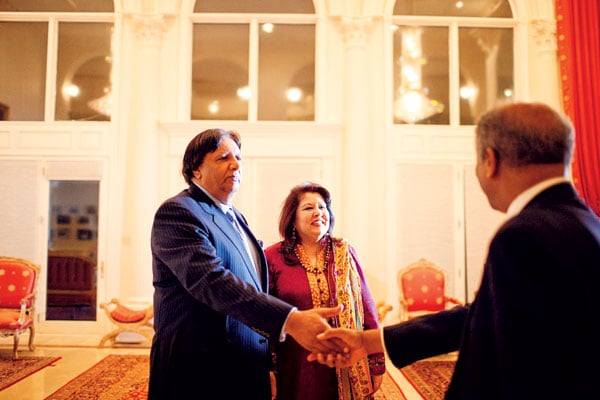 As their four kids grew up, Ray and Shaista Mahmood turned their energy to entertaining, charity, and each other. Photograph by Melissa Golden.
In the late 1970s, as Ray and Shaista started having kids—they have four, all now grown and no longer at home—Ray got his real-estate license and set up the Mahmood Investment Corporation, through which he began investing in properties in Alexandria. In 1980, he bought his first hotel, which led him to buy two others.
Today he presides over a booming real-estate business, with two property-management offices in Virginia and about 30 employees. He has dozens of condos, hotels, strip malls, and apartment buildings in Virginia and DC. He owns the whole block in Del Ray on which his original Sunoco stood. The station was recently demolished to make way for offices and restaurants, including a frozen-custard shop to which President Obama once took his daughters.
Mahmood prefers not to talk about his business success. Proud as he is of his large home, he considers it a means to an end—a way to host people in power and wield some kind of influence in Washington decision-making. When pressed for details about his company, he becomes almost taciturn.
The topic that animates both Ray and Shaista is politics. Now, with US/Pakistan relations at a low, both obsess over what they can do to improve ties between their two countries.
Relations continue to sour, months after US troops found and killed Osama bin Laden just outside a Pakistani military academy. In November, US-led NATO forces killed at least two dozen Pakistani soldiers in an airstrike, sparking diplomatic and public outrage across Pakistan. That incident came days after Pakistan's ambassador to the United States, Husain Haqqani, resigned because he'd been associated with a controversial memo sent to Admiral Mike Mullen, former chairman of the Joint Chiefs of Staff, requesting American help in dealing with the Pakistani military. The memo referred to a possible military coup in the wake of the military's humiliation over the American raid that killed bin Laden. Earlier last fall, Mullen had said that a Pakistani insurgent group was "a veritable arm" of Pakistan's intelligence agency, the Inter-Services Intelligence directorate (ISI). And just before press time in early December, Zardari left Pakistan for medical care in Dubai, a move leading to speculation that he was being forced out of power.
The voices in Congress calling for an end to US military assistance to Pakistan—which amounted to more than $2 billion in 2010—are growing louder. Even those who trade on optimism about the US/Pakistan relationship are sounding a grim note. Taha Gaya, who runs the Pakistani American Leadership Center, a lobbying organization in Washington, characterizes ties between the two countries as "about to go over a cliff."
Mahmood agrees with that assessment: "Of course it's great that we got Osama bin Laden, but that seems to have ruined any trust we'd built up." He's otherwise so consistently enthusiastic about America that it's surprising to hear him criticize his adopted country. "The US should have shared intelligence with Pakistan before the Osama raid," he says. "We've had shared missions in the past and they haven't been compromised."
He cites the Raymond Davis case as precipitating the decline in relations. Davis, a CIA contractor, shot and killed two Pakistanis in Lahore last January, sparking months of hostility between the CIA and the ISI. "We in the US mishandled that whole situation," Mahmood says. "And now Pakistanis in Pakistan have an all-time low opinion of America—and Americans' opinion of Pakistan is overwhelmingly negative, too. It's terrible."
Irfan Malik, executive director of the Pakistani American Public Affairs Committee, or PAKPAC—of which Ray Mahmood is a board member—talks about how his work has changed. "We used to go to meetings on the Hill and hear, 'How can we help Pakistan? Should we invest in education, infrastructure, health care?' But in the last several months, what we're hearing is more like 'We have to wait and see if Pakistan is really a partner with the US.' The question for them isn't where to invest anymore; it's whether to invest."
Malik says the situation has cast a pall over Washington's Pakistani community. Some Pakistani professionals—with good jobs in the area, who have raised children here—talk about returning to Pakistan. Anwar Iqbal, Washington correspondent for the English-language Pakistani newspaper Dawn, moved here in early 2001 and says that things are as bad now as they were right after September 11, when physical and verbal attacks on Muslims had Pakistani-Americans on guard.
"The US had such a positive reputation among Pakistanis after the 2005 earthquake in Pakistan."

"My American friends tell me that it's wrong that Osama bin Laden was found in Pakistan, and that's valid," Iqbal says. "But of course, we Pakistanis living here don't want to be held responsible for that." He says that as Pakistan's image as a harborer of terrorists has been cemented in this country, he's even heard Pakistanis wonder aloud whether the United States might set up concentration camps, as they did for Japanese-Americans during World War II, or force those of Pakistani origin out of the country.
"It's hard now to believe how good things were between our countries just a few years back," Shaista Mahmood says. "The US had such a positive reputation among Pakistanis after the 2005 earthquake in Pakistan."
Following that tragedy, she and her husband worked with George and Susan Allen to raise funds for disaster relief. They met the senator and his wife in Islamabad, where they presented a check to a citizens' organization they'd been working with and met some of the earthquake victims.
Ray Mahmood remembers one kid pointing at a picture of a Chinook helicopter: "And then he said to George, 'The Americans saved me and my family.' "
To get to the Mahmood mansion, you drive along the boundary of George Washington's Mount Vernon estate, then wind through a neighborhood of million-dollar homes. All the other houses seem to shrink once you reach Ray and Shaista's. The wrought-iron gate opens to a plot of land that swoops down to the river, where a yacht—which can sleep six—is docked at the pier. The eight-bedroom, 11-bath home has unobstructed views of the Potomac from every room on the south side.
"We have many important stories to tell," Shaista says, "but the most important is the purchase of this lot." She and Ray are proud of the history of the land, whose first owner, Shaista says, was George Washington: He bought it for his nephew Augustine. It meant a lot to the Mahmoods to invest in a piece of American history—land that by itself is valued at close to $4 million, according to the tax assessment.
Shaista describes the decision to buy the property 15 years ago as a turning point that marked their coming into the life they wanted to live, as their four kids grew up and moved away and they began to devote more energy to entertaining, charity work, and each other: "When we were first deciding to buy this property, Ray said, 'Look, it is on the river, just like the Taj Mahal.' "
The first time I visit the Mahmoods, Ray ushers me into the living room, where we perch on stiff-backed formal chairs. Despite a peaceful view of the Potomac, the room feels overwhelming, with its ornate European decor—paintings, chandeliers, gold candlesticks, mirrors. Gilt-framed photographs speckle every surface: Ray and Shaista shaking hands with an earnest-looking Bill Clinton, Ray and Shaista and their children standing awkwardly with Al Gore, Ray deep in conversation with former Pakistani president Pervez Musharraf.
After a while, Shaista appears. Rather than presenting herself as the stereotypical silently supportive Pakistani wife, she joins the conversation, occasionally correcting her husband. Although she offers tea, she doesn't immediately get up to fetch it. She and her husband operate as equals in many ways—coordinating their fundraising and hosting efforts and strategizing to help with the major issues in Pakistan.
Three years ago, Shaista was approached by Congressman Howard Berman's wife, Janis, at a cocktail party. Janis Berman told her she wanted to get to know more about Islam, and she thought some other Congress members' spouses would, too. The two started holding regular meetings at the embassies of Afghanistan, Egypt, and Syria, among others—dubbed the Muslim Women's Dialogue—to which they invited the wives of Muslim ambassadors to mingle with US politicians' wives.
"The Muslim Women's Dialogue is the softest backroom diplomacy," Shaista says. "We all go home and talk to our husbands about who we met and what they taught us. And we hope it makes a difference in some way."
After we've been sitting in the living room for about half an hour, Shaista suggests—to my relief—that we move to the much homier kitchen, where she says they spend most of their time. We sit at a large wooden table in a room full of light, as their housekeeper bustles about making tea.
Next: "We didn't know many Pakistanis when we first came here"

Mahmood with former Pakistani president Pervez Musharraf. Photograph courtesy of Ray Mahmood.
Ray and Shaista have what's often called "a pseudo-arranged marriage," meaning the match was only partly preordained. Their fathers met at boarding school in Delhi and stayed friends through the time of greatest turmoil on the subcontinent—the Partition of India, which led to the creation of Pakistan in 1947. For months, riots swept across every part of the new border between what was to become mostly Hindu India and majority-Muslim Pakistan. Ray's father, Zafar Mahmood, was the only member of his family to survive the Partition because he left Delhi right at the creation of Pakistan and moved to Karachi to establish the country's first foreign office.
"Ray's father was a pioneering diplomat for our country," Shaista says as her husband shifts uncomfortably in his chair at the praise. Still, he's clearly also proud of his father's accomplishments: accompanying Prime Minister Zulfikar Ali Bhutto—father of Benazir Bhutto—to the United Nations in the 1960s and helping to arrange national-security adviser Henry Kissinger's visit to Pakistan in 1971. When Zafar Mahmood was posted to the Pakistani Embassy in Washington, he brought his family with him. Ray attended Albert Einstein High School in Kensington.
After high school, Ray moved back to Pakistan to join the military but was rejected. In 1973, as he was finishing his bachelor's in economics at the University of the Punjab, his father asked him what he planned to do next; he said he wanted to move to Washington to work for the World Bank. When his father asked how he'd manage alone in the United States, Ray said he was actually hoping to bring someone along with him—Shaista, daughter of his father's best friend.
"So my father picked up the phone and called Shaista's father and told him my plan," Ray says.
His wife continues the story: "And then my father asked me—he asked me, he didn't tell me—whether I'd like to be married to Ray. Quite amazing that he gave me so much input, considering that I was only 17."
Ray was just 21, so the couple waited three years before marrying at Shaista's parents' home in Lahore. Then Ray brought her back to Virginia, where he'd been trying to establish himself. It turned out that his plan to get hired at the World Bank was a pipe dream. "Of all the things that didn't work out in my life, that may have been the best one not to," he says with a smile. "Perhaps even luckier than my not making it into the Pakistani army."
Instead, he looked for a company to buy, having heard that was the way to get a green card. His ambitions didn't go over well with his father, who had hoped his son would take the foreign-service exam in Pakistan. "My father kept calling from Pakistan to remind me that no one in our family had ever been in business before," Ray says. "He didn't like the idea at all."
"I used to joke that I had married an American, not a Pakistani, because Ray didn't have any Pakistani friends."

For Ray Mahmood, the decision to become an American was about being liberated from the class strictures that traditionally bind generations of a family into the same profession in South Asia. He says that during his teenage years in Washington, without being aware of it, he had developed American ideas about shaping his own destiny.
But his new bride found it harder to adjust to life in the States.
"We didn't know many Pakistanis when we first came here," Shaista says. "I used to joke that I had married an American, not a Pakistani, because Ray didn't have any Pakistani friends."
Ray smiles. "There weren't any other South Asians when I went to high school here, and I had to make friends," he says. "These were the people I connected with when I moved back. It was a big change for Shaista, though." It wasn't until the couple started having kids a few years later that they sought out other Pakistanis.
They gave all four of their children Pakistani names but made only a limited effort to impose a Pakistani lifestyle on them. They wanted their kids to grow up feeling at home in America.
Ray and Shaista's children still live in Washington. The sons, ages 30 and 33, work in real estate and at AOL, respectively. The couple's 27-year-old daughter works for a company that contracts with the State Department, and another daughter, 20, is an undergraduate at Catholic University.
When the kids were young, Shaista made sure the family ate Pakistani food a couple of times a week, and she tried to teach them Urdu. Although she can read and write in the Pakistani national language, Ray can't, because much of his education was overseas.
His interest in all things American had a lot to do with forming a friendship with Congressman Jim Moran. When they met in 1975, Moran was a budget analyst for the Nixon administration, living in Del Ray, and would often stop by Ray's Sunoco station and chat.
"Ray was still new to the US," Moran says. "We discovered we were interested in similar things—foreign affairs, housing issues, the economy."
They became good enough friends that Moran, a single parent at the time, would leave his three-year-old daughter with Mahmood at the station while he walked his five-year-old son to kindergarten. Then Moran and his daughter would take the bus into DC.
Mahmood remembers being impressed by Moran's work ethic: "He always had folders full of stuff to read on his commute." When Moran ran for Alexandria City Council a couple of years later, Mahmood made sure to hang JIM MORAN signs outside his properties so they could be seen from the road. When Moran ran for mayor of Alexandria in 1984, Mahmood's daughter worked for the campaign and he and his wife hosted fundraisers.
"He's why I got into politics," Mahmood says. "He showed me how great it can be."
Moran compares Mahmood to Esther Coopersmith, the longtime Democratic fundraiser well known in Washington for bringing people together from opposing parties at her home near Embassy Row.
Says Moran: "When Ray hears people complain about something, his instinct is to say, 'Let's get the person you're complaining about in the room with us.' "
Susan Allen places Mahmood's power in his "willingness to share contacts and desire to meet people of all kinds—he and Shaista are basically really good networkers."
Not all Pakistani-Americans see Mahmood as a major powerbroker for their community. Some even suggest that he's simply fulfilling an egotistical urge by shaking hands and getting his picture taken with politicians.
But Saud Anwar, a physician and local politician in South Windsor, Connecticut, who used to work as an unpaid advocate in Washington on US-Pakistan relations, says Mahmood understands how Washington works: "Ray's influence comes from his ability to get people together. He sees that everything is about relationships in Washington."
For instance, two years ago, Mahmood helped lobby Congress to pass the Kerry-Lugar Act, which sought to provide Pakistan with $7.5 billion in non-military aid over five years. He made sure that Congressman Howard Berman, then chairman of the House Foreign Affairs Committee, met with Pakistani-American lobbyists such as Anwar.
Mahmood was there, too, and Anwar recalls being impressed at his artful way of turning the conversation back to the difficult issues: "I always want to take a hard, data-based approach, but you'd never hear Ray hammering away about something. He doesn't feel it's his responsibility to nail things down right away—he understands that taking things gently will do him more good. Ray knows that just getting Chairman Berman in the room with us to talk about our issue—in that case, civilian aid to Pakistan—was half the battle. And he was right."
Not only did Berman lend his support, but he agreed to cosponsor the act, which was known as the Kerry-Lugar-Berman Act when President Obama signed it in 2009.
Irfan Malik, PAKPAC's executive director, says Mahmood plays a role essential to every immigrant community: He helps draw Pakistanis out into the mainstream. Malik says that whether or not Mahmood's political fundraisers make him a major powerbroker, they bring attention to the issues facing Pakistan and Pakistani-Americans, and that helps the community more than anything else.
Next: "We all have crazy uncles," he says. "The question is how we deal with them."

The Mahmoods' home is filled with photos of the couple alongside world leaders such as former British prime minister Tony Blair. Photograph by Melissa Golden.
The night that dozens of cars belonging to Republicans and Tea Party leaders park outside the Mahmoods' home, they're gathering for an "interfaith iftar." The iftar is the meal to break the day's fast during Ramadan—the holiest month of the year for Muslims, when they fast from sunup to sundown.
Ray and Shaista don't always fast for Ramadan, and they rarely attend Friday prayers at the local mosques. "You don't need to have the Koran memorized and pray five times a day in order to be a good Muslim," Ray says. Still, he considers it important as a Pakistani-American to educate his friends about Islam.
The interfaith iftar is one of many events that represent a shift the Mahmoods made after September 11, when they decided to be more public about Muslim culture and traditions.
Susan Allen says 9/11 first brought her together with Shaista: The Allens had just moved to the neighborhood, and after the attacks they realized that not only were there four Muslim families in their enclave of 30 or so houses but one of their neighbors had been killed in the plane that crashed into the Pentagon.
"Some of the Muslims in the neighborhood told us they were worried about how they would be treated," Susan Allen says. "So I immediately started talking to Shaista about what we could do."
Then, five months after 9/11, the Mahmoods attended the National Prayer Breakfast at the Washington Hilton. Shaista sat next to a small-town mayor who told her he'd never met a Muslim before.
"There are only 2 or 3 million Muslims in the US. But after I met him, it got me thinking: We need to make sure that people know we exist—moderate Muslims who love America."

"It isn't Americans' fault that they haven't been exposed to us," she says. "There are only 2 or 3 million Muslims in the US. But after I met him, it got me thinking: We need to make sure that people know we exist—moderate Muslims who love America."
She and her husband are cohosting this year's iftar with a couple of well-known conservatives—former Homeland Security Secretary Michael Chertoff and Americans for Tax Reform founder Grover Norquist.
The Chertoffs have been involved with the event since 2005, the year Michael Chertoff became Homeland Security Secretary. Ray Mahmood first met him at an event at the European Union ambassador's house and took him aside to tell him he'd been upset by what he'd witnessed when he was selected for special screening at the Detroit airport. Although Mahmood wasn't mishandled, he was taken aback by the harsh treatment he saw airport screeners doling out to other travelers.
"Chertoff took 20 minutes of his time to listen to me that night," he says. "And when I was done, I was surprised to hear him agree that it was a problem and that his TSA guys need better sensitivity training."
For this year's iftar, Ray and Shaista decided to invite a group of "Washington neo-cons," as Shaista puts it. The Chertoffs came up with a third of the 150 or so invitees, and Norquist—a Tea Party favorite whose own wife, Samah Alrayyes, is a Kuwaiti Muslim—helped come up with Christian conservatives to add to the list. The Mahmoods asked Imam Mohamed Magid, a prominent leader from the All Dulles Area Muslim Society, to explain the significance of Ramadan, and a Christian evangelical leader would give a short speech about the importance of inter-religious dialogue, as would Chertoff's rabbi.
At the iftar, only about 10 percent of the guests are Muslims observing Ramadan, but snacks aren't offered until after sundown, and no alcohol is served. After the Muslim prayer to break the fast, the guests are escorted downstairs to the Mahmoods' ballroom—a large lower floor decorated with gilded Doric columns, where more than a dozen round tables are laid with linen and silverware and a buffet of Afghan and Pakistani food awaits.
Once the guests dig into their lamb kebabs and rice, Ray stands to welcome them. He speaks so softly that his guests have to strain to hear, even though he's using a microphone, and he stands partly behind one of the columns. He quickly turns the evening over to the Chertoffs so he can retreat behind a column at the front of the room to observe the rest of the evening.
Later on, Norquist moderates a discussion that includes questions about "how to deal with the crazy uncles among us," meaning relatives and friends who believe that people of other religions are dangerous. Imam Magid says he recently spent two hours with then Republican presidential candidate Herman Cain, who has said in the past that American Muslims want to impose sharia, or Islamic law, in the United States and that he would require them to prove their loyalty to the country before they could work for his administration. Meeting with Cain, the imam says, made him realize how important it is to deal with those from his own religion who believe similar things about Christians. "We all have crazy uncles," he says. "The question is how we deal with them."
After the event, Shaista reports that one of the guests, a Tea Party founder, lingered at the end of the night to talk about Islam. "That's payoff for opening our home to so many people we don't know," she says. "Hopefully, I was able to tell her something she didn't know, open her mind a bit."
Despite all the changes in their lives, Ray Mahmood and Jim Moran still get together almost weekly for impassioned discussions over meals. Both are upset at how few Pakistani-Americans work in influential positions in Washington at a time when Pakistan is probably the United States' greatest foreign-policy concern. Mahmood can't help but point out that there are dozens of Indian-Americans working in high-level positions in the Obama administration and next to no Pakistanis.
"There's no secret here," Moran says. "You've simply got to get more Muslims to contribute politically and financially to the political process." He says he was frustrated when few of the Muslim-American invitees showed up at a recent fundraiser the Mahmoods held for Congressman Howard Berman. "I think it was more out of apathy than bias against Congressman Berman because he is Jewish," Moran says. "But that's what Ray and I are trying to fight—the apathy and sense of isolation in his community."
When I ask Moran whether he thinks Ray Mahmood should take on a more official role in politics or diplomacy, he says he wanted to recommend him as US ambassador to Pakistan, and others did, too: "But Ray urged us not to do it. He's always said he thought he could be more effective where he is." Moran pauses. "Frankly, he's probably right."
This article appears in the January 2012 issue of The Washingtonian.