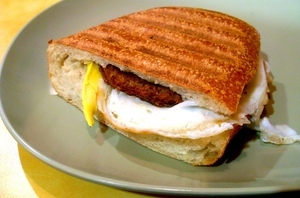 THE STATS
Gender: Female
Age: 34
Height: Five-foot-two-and-a-half
Weight: 140
Location: Manassas, VA
Profession: Administrative assistant
Self-described activity level: Very busy! I lead a pretty active lifestyle, in that I spend a very small amount of time doing nothing. I spend the majority of my time in a vehicle, behind a desk, or traveling between the two. Out of the 17 hours of the day I am awake, I spend an average of two to three hours at home.
—–
DAY ONE
10:35 AM: I order a spinach and artichoke baked egg soufflé from Panera Bread and a triple grande gingerbread latte from Starbucks. I get a late start to breakfast, but that is quite normal. Starbucks and Panera Bread are two places I go quite frequently. They are close, convenient, and a nice alternative to your usual fast food selection.
1:30 PM: Seasoned green beans and hot water. We have someone who cooks lunch for us every Friday (I work at my church). It's usually delicious comfort food: candied yams, smothered chicken, baked macaroni and cheese, etc. Today, I opt for the string beans only, and have a couple of chocolate-covered cookies. I love chocolate!
5:30 PM: I eat three slices of a four-cheese pizza and drink some hot water. I definitely blew it here. I'm out to dinner with a friend from out of town, and I could have chosen a nice salad, but I didn't. I'll try again tomorrow.
—–
DAY TWO
10 AM: I have an egg and cheese on ciabatta bread from Panera and iced coffee with whole milk from Starbucks. Quick, portable, and yummy!
2:30 PM: Busy, busy, busy! I down a cup of coffee with a Granny Smith apple and some pecans—there just happened to be a layer of caramel between the two.
6 PM: Dinner doesn't happen. Neither does my 30-minute walk. Sheesh. I can hear my best friend now: "Deborah, take some time for yourself." Me time is so overrated.
—–
DAY THREE
9:15 AM: Iced coffee and biscotti for breakfast. Tonight we will have a Christmas dinner at church. What was I thinking by keeping a diet journal during the holidays?!
6 PM: At the party I have a plate full of food: baked chicken, some concoction called "broccoli cornbread" (yummy!), pasta salad, and macaroni and cheese. At least I didn't eat past 7 PM. You have to see the silver lining.
—–
DAY FOUR
8:50 AM: Only have time for a cup of coffee from Starbucks.
4:15 PM: A small bag of potato chips.
9 PM: This is the way it usually goes for me during the week—late dinners. It's just the nature of my schedule. I order a grilled veggie sandwich from Five Guys, with a root beer. I'm proud of myself for not getting a burger and fries.
—–
FROM THE EXPERT:
Tanya Johnson, an outpatient dietitian at Washington Adventist Hospital, says: "First, I would like to praise you for keeping a food log during the holiday season. That is courageous!
"It sounds like you try to get a 30-minute walk in most days of the week. Try wearing a pedometer to see how many steps you actually take in a day. Use 10,000 steps a day as a goal. Remember, on the go is not the same thing as physical activity. Ask yourself if the activities you do during the day cause you to move your arms and legs for an extended period of time.
"We have all heard this before: 'Eat your breakfast.' But did you know that eating breakfast within two hours of waking up helps your brain function better, helps you lose weight (or maintain your goal weight), and keeps blood glucose levels steadier?
"Consider more food, and you might need less caffeine. Half your days you had protein at breakfast (eggs, cheese). Good job. Try some protein every morning. Eat lunch, even if it seems like you don't have time. A small lunch is better than no lunch. Add a nutritious snack like a handful of almonds or peanuts or a light yogurt in the afternoon or mid-morning if you feel hungry.
"Keep up the good work trying to eat vegetables on a daily basis. Try to get at least one and a half cups of cooked or three cups of raw vegetables daily. Add two to three small pieces of fruit a day. If you are not a big fruit eater, increase your vegetables to two and a half cups cooked or five cups raw.
"Fast food versus restaurant food can be a tricky thing. Consider this: A grande whole-milk gingerbread latte from Starbucks has 360 calories. Add the Panera soufflé for 540 calories and your total is 900 calories, which is more than half of your daily calorie needs. On the other hand, an egg McMuffin with cheese at McDonald's is 300 calories (without cheese it's 250 calories), and with a coffee with one flavored creamer (like International Delight hazelnut creamer) it's a total of 330 calories. Check the nutrition facts for your favorite restaurants, and you will find great-tasting food that is also a healthy choice.
"If you tend to sleep in and then rush to leave the house, consider packing yourself a breakfast the night before and bringing it with you to work. And if you must have a soda with dinner like on day four, know this: Every eight ounces of soda has 100 calories. Think of your root beer as dessert."