Photographs by Neil Alexander.
See Also:
Using a cheerful palette of pink, yellow, and lime, Kelley Proxmire of Kelley Interior Design created a Rhode Island seaside retreat bursting with traditional yet playful touches. Inspired by the home's sprawling 15-acre landscape, the designer mixed botanical prints with raspberry fabrics, sunny wallpaper, and pops of green. But it's small touches like colored piping and monogrammed pillows that pull the whole look together. We asked Washington's queen of prep to share her tips for creating a room Lilly Pulitzer herself would envy.
Tell us about preppy decor.
The trend incorporates a lot of color. Most of the fabrics are bold, geometric patterns, often including stripes of all sizes. In addition to using primary colors, preppy decor can include bold versions of pastels—like hot pink, golden yellow, or lime green.
What are some of the challenges of preppy decorating?
The main challenge is making sure the rooms do not feel too juvenile. A sense of sophistication can be accomplished by using more formal fabrics such as velvet or silk.
What advice do you have for those looking to incorporate the trend into their own home?
Go slowly, and don't go overboard. Preppy colors and designs can be added by way of accent pillows, lampshades, wall mirror frames, or even table linens. Select a few strong accents and then add more preppy pieces as needed.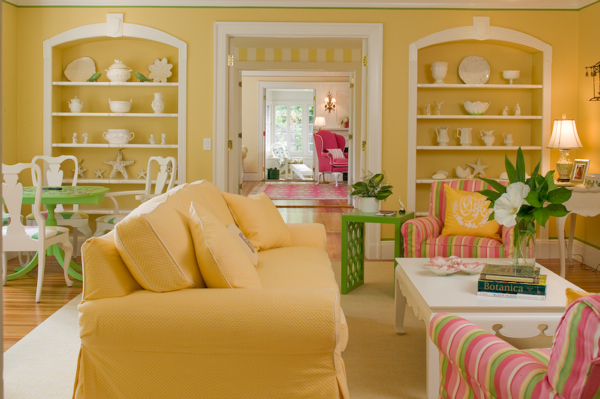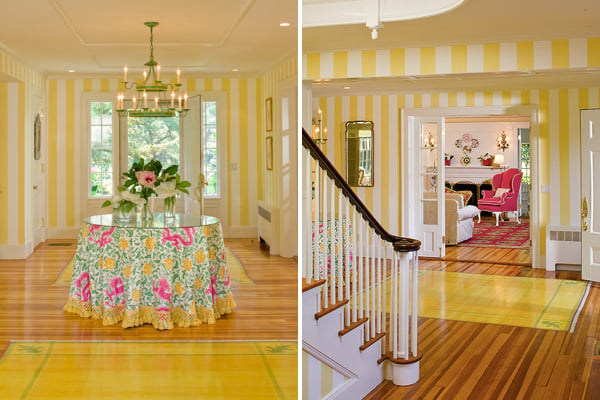 You used a lot of pink in the Rhode Island home. Is it safe to say the hue reigns supreme?
Absolutely! Hot pink is such a classic preppy color, and it mixes well with other colors.
What are your favorite elements of the project?
That's easy: the trompe l'oeil "rugs" in the foyer. I had them designed specifically to incorporate the logo associated with the house—an oak leaf for "Oak Hill."
What are some of your favorite places to shop for preppy designs?
Lee Jofa offers a wonderful line of Lilly Pulitzer fabrics, and China Seas fabrics are at the top of my list, too!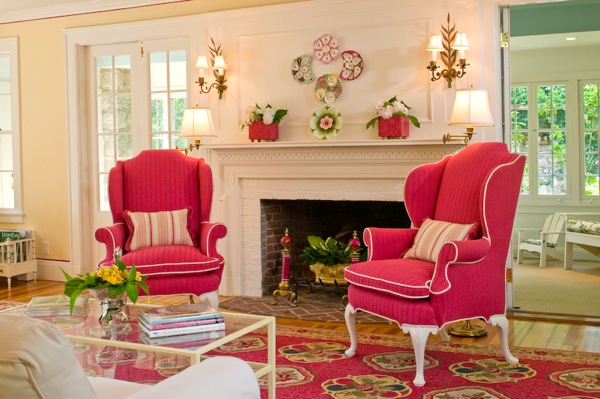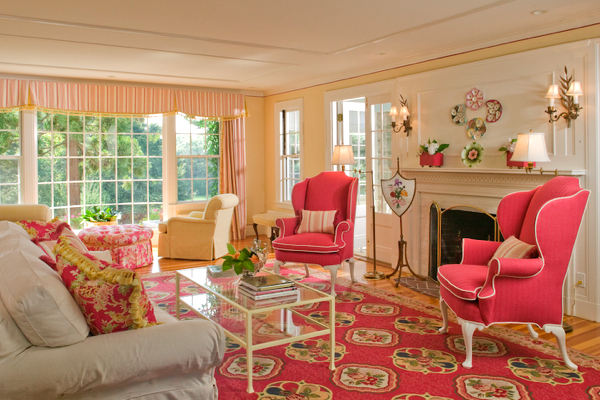 For more decorating ideas, check out our slideshow of preppy home products.