Photograph by Kip Dawkins, styling by Marcie Blough.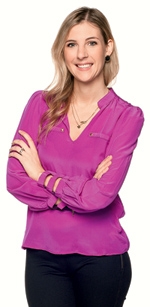 Winter can be as bleak for fashion as it is for weather. Although we're bundled up, that doesn't mean a burst of color can't peek through the layers. Local artist Meg Biram brightens both her paintings and her outfits with pops of neon. Once big in the '80s, neon has come back in spring accessories—just don't wear all those highlighter hues at once.
"In the '80s, people wore multiple neon colors together," says Biram, who blogs about design, art, and fashion at Mimi & Meg. "Tan and neon is the new idea—pair one neon shade with neutrals for a bright, fresh look."
Biram's favorite way to wear the look is a gold chain bracelet with neon tassel charms: "It gives a neutral outfit a hint of fun."
If bright hues scare you, Biram suggests starting with something simple: "Tights in bright blue or pink are a cheap way to look smart about the trend."
This article appears in the February 2012 issue of The Washingtonian.