A new item on the Seasons breakfast menu, smashed-chocolate-croissant French toast, is topped with raspberry compote. Photographs by Carol Ross Joynt.
If your favorite Beltway bigwig seems a little more relaxed this week, it may be thanks to the re-appearance of the grand tradition of breakfast confabs in the Seasons restaurant at the Four Seasons. As Capital Comment reported Tuesday, the restaurant reopened this week after a million-dollar remodel (during renovation, the morning meal was served upstairs at Bourbon Steak). The expansion added 800 square-feet to the dining room. Also new: banquettes, wool carpeting, and a small "living-room" area for guests looking for a quick coffee before heading out.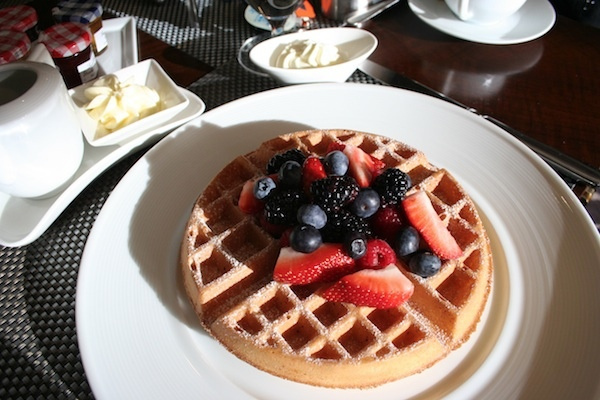 So what do the regulars eat in the AM? A restaurant rep said that business-meeting breakfasters like to eat simple—oatmeal, eggs and bacon, a fruit plate with yogurt—so they can concentrate on the conversation rather than what's on their plates. For the more food-focused among us, Executive Chef Douglas Anderson has added entrees like the wildly decadent smashed-chocolate-croissant French Toast with raspberry compote, sausage sliders with cheddar cheese, and corn-beef-hash croquettes with poached eggs and whole-grain mustard.
But Anderson knows better than to do away with tradition altogether at the three-decade-old breakfast destination. Classics like the Belgian waffle with fresh berries (pictured above), eggs Benedict, and huevos rancheros (pictured below) will have a permanent home at Seasons.
Seasons is open for breakfast Monday through Friday from 6:30 to 10:30 AM; weekends 7:00 to 10:30 AM. Sunday brunch is served from 10:30 AM to 2:30 PM.