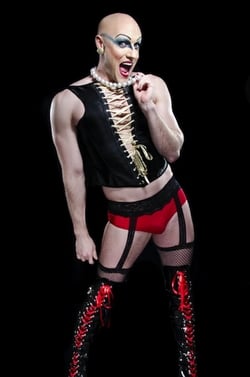 It seemed like The Rocky Horror Show couldn't get any more over the top. And then the Gay Men's Chorus of Washington went and Gaga-fied it.
Outlandish costumes reminiscent of the superstar pop singer and her favorite designer, the late Alexander McQueen, will dominate the stage when the vocal performance group performs the show over the weekend at George Washington University's Lisner Auditorium. Expect singers decked out in dresses made of bubbles, peacock-feathered corsets, and stark, dramatic makeup, all representing Dr. Frank-N-Furter's team of loyal transsexuals from Transylvania.
Media were invited Thursday to view a portion of the dress rehearsal for the Gay Men's Chorus take on the beloved cult classic. Those unfamiliar with the unconventional science fiction tale–in which vanilla couple Brad and Janet, stranded with a flat tire, find themselves approaching a spooky mansion where a night of murder, debauchery and aliens awaits them– will probably find themselves a bit bewildered and confused by the performance; the show is directed to appeal to fans. That means those who know all the words (and even the choreography) to "Time Warp" by heart will be right at home this weekend.
The all-male show has a roster of strong leading performances. The narrator (Mitch Menchaca) is comfortable improvising and teasing the audience as he sets the scene for the story. As Brad, Craig Lee is endearingly stuffy and precise. He is complemented by Rick Bennett's delicate, wide-eyed take on Janet (Bennett gets to really let loose during Janet's sexual awakening song "Touch-A Touch-A Touch Me"). And Joshua Bennett's Dr. Frank-N-Furter is graceful and menacing, magnetic and devious.
The show's supporting performances are more uneven—vocals from servants Magenta and Columbia, for example, were drowned out by the show's enthusiastic orchestra during the rehearsal, an issue that plagued some group numbers, as well.
The Gay Men's Chorus encourages the audience to play along, shouting out the call-and-response lines that have become so popular during midnight screenings of the movie version. Leave the rice at home, though—the throwing of objects onstage during shows will not be tolerated this weekend.
The Rocky Horror Show runs for three performances this weekend at the Lisner Auditorium. Tickets are available at the Gay Men's Chorus of Washington's website.