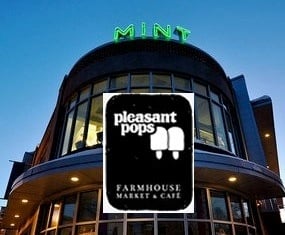 Great news today for Pleasant Pop fans: The sweets truck, known for roving DC distributing fruity popsicles, is setting up shop in Adams Morgan at 1781 Florida Avenue, Northwest, in the former Rita's space. News of the Pleasant Pops Farmhouse Market & Cafe was announced on the Pleasant Pops website yesterday; we checked in with co-owner Roger Horowitz for details.
Fresh, seasonal popsicles made with fruits, herbs, vegetables, and dairy sourced from local farmers markets is still the focus; there's a staple menu of about ten flavors–including cucumber-mint, chocolate-banana, and strawberry-ginger-lemon–plus four weekly specials. The opening, slated for July 1, comes at the height of peach season, so Horowitz is planing several selections made with Bigg Riggs Farm fruit–think flavors like cinnamon-vanilla-peach. You'll be able to pick up the peaches themselves, and other produce used in the popsicles, in a small market section of the shop, which will be stocked with Trickling Springs Farm milk, local eggs, cheeses, crackers, jams, and jellies. There will also be a lineup of vegetarian and vegan sandwiches such as hummus-veggie and caprese, salads, coffee from Annapolis-based producer Ceremony Coffee Roasters, spicy Mexican hot chocolate, and free wi-fi–all of which can be enjoyed at two communal tables.
If July seems like too long to wait for your Pleasant Pops, worry not. The truck will make its seasonal debut at the Foggy Bottom FreshFarm market, opening Wednesday, April 4, from 3 to 7 PM.