Alison of Wardrobe Oxygen takes a page right out of J.Crew's holiday catalog, and we are definitely not hating it. In honor of the season change, we swapped out the cowlneck sweater for a silk blouse and opted for an extra-large turquoise satchel to hold all those weekday essentials.

Marc by Marc Jacobs satin top, $137.49; DKNY cropped pants, $255; Urban Expressions satchel, $68; Sam Edelman pumps, $115; House of Harlow 1960 spike bangle set, $139.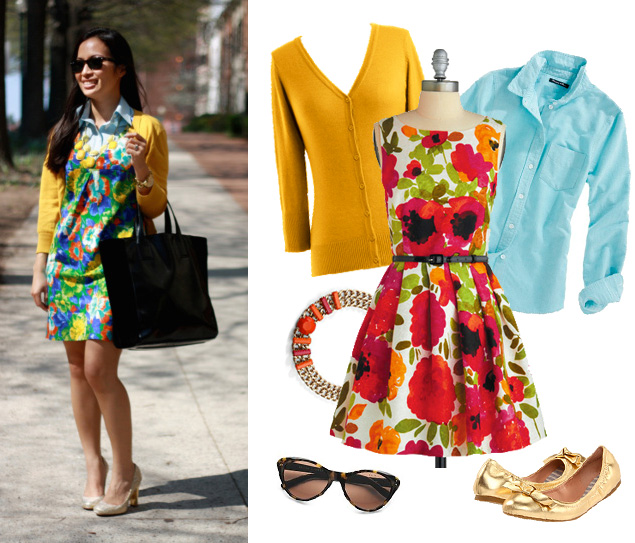 We love how Tammy of a Loyal Love popped a collared shirt under a
structured sundress–it's one of our fave ways to incorporate something
slightly dressier into our workplace wardrobe. If you're hoping to pull
off a similar look, stick with dresses with a simple sheath top. The
clean cuts of the arms and neck holes will keep you from looking frumpy.
JC Penney necklace, $12; Modcloth dress, $224.99; Paul Smith ballet
flats, $375; Madewell shrunken oxford, $68; Modcloth cardigan, $34.99,
Ralph Lauren cat-eye sunglasses, $160.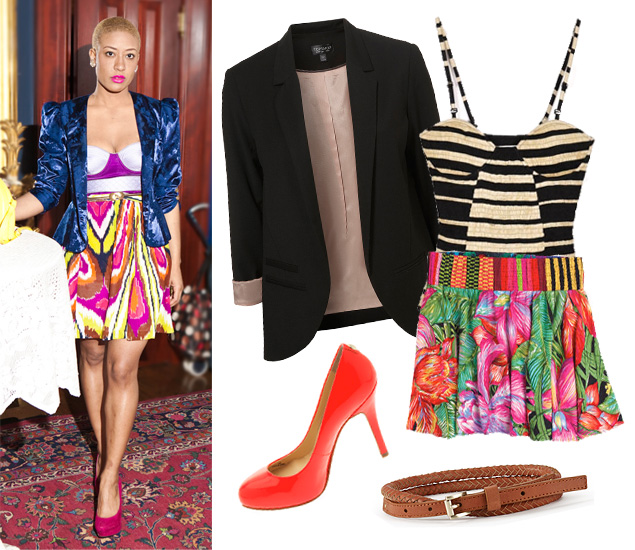 Helllooo, perfect Friday night outfit. Denisio of the Ravenous Creator
pulls off one of the flirtiest looks we've seen in a while here, and we
can wait to turn heads in our own version come the weekend. Now if only
we were brave enough to rock a shaved head . . .
Topshop boyfriend blazer, $130; Delia's miniskirt, $29.50, Shakuhachi one-piece bustier, $200; Ivanka Trump pump, $125; Vince Camuto braided belt, $36.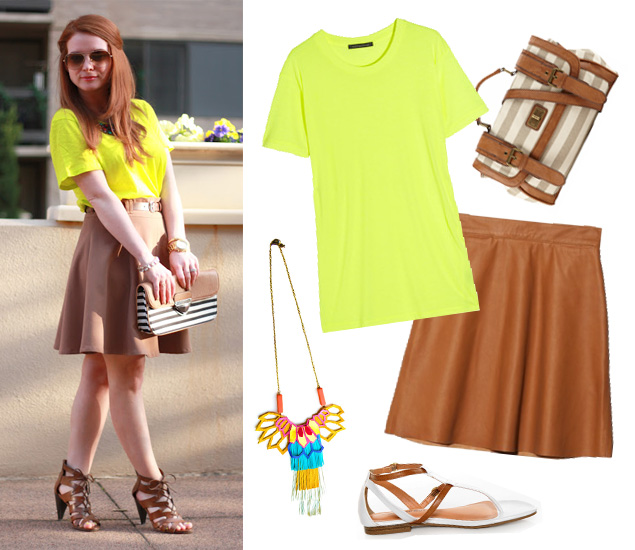 Alison of Chain Strap Purse demonstrates a great way to do neon and
neutrals on the weekend with her relaxed-fit tee and swingy skirt. We
toughened things up a bit with a leather mini and knocked down the
inches on the heel for extra walkability.

Otte leather skirt,
$695; Christopher Kane shirt, $190; Boo & Boo Factory Necklace, $64;
Aldo satchel, $50; Lulu's two-tone sandal, $19.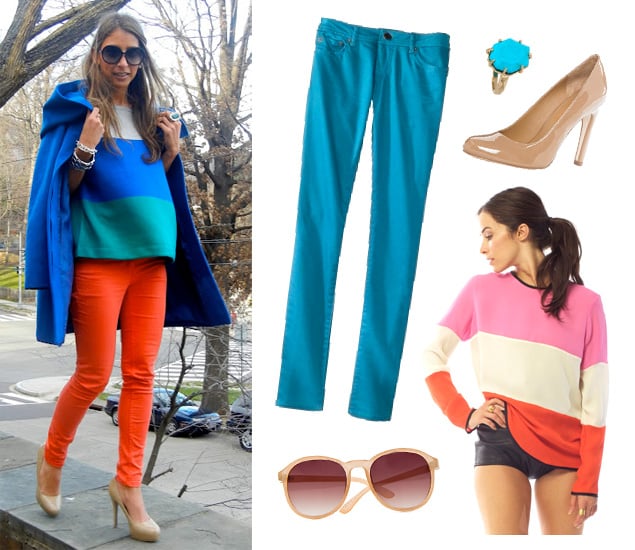 No one is nailing neapolitan stripes quite like designer
Heidi Merrick
right now, and we're glad to see Leslie of
Fashion Needy
is paying
attention. Sport this look for on a chilly weekend day, and stick with
simple accessories. Jackie O. sunglasses, nude pumps, and a simple ring
will keep all eyes focused on the clean lines of your shirts and jeans.

Heidi Merrick shirt, $350; Mossimo skinny denim, $22.99, KORS Michael
Kors patent pump, $195; Mango sunglasses, $24.99; Kendra Scott ring,
$50.