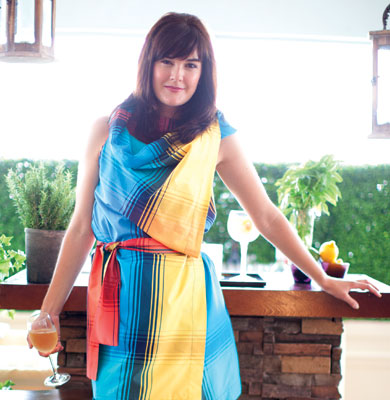 Here's some sad news for devotees of Kathryn Bangs's creative pairings at Komi and Little Serow: The charismatic sommelier worked her last shift on Saturday. Bangs called us from New York City, where she moved to take a marketing position with the alcoholic beverage company Cooper Spirits International.
"It's not even a step up, it's just a different step," she told us. "There's no step up from Komi."
Bangs worked at Komi for more than three years, and was a distinctive presence with her colorful style, charming and knowledgeable presentations, and creative pairings that incorporated micro-brews, sake, and offbeat wines with chef Johnny Monis's parade of dishes. A background in cocktails prompted the move into the spirits industry. She began as a cocktail waitress at Madam's Organ, and became immersed in the craft cocktail world at the Tabard Inn. She's a founding member of the DC Craft Bartenders Guild and was a brand ambassador for St. Germain liqueur, Cooper's premier product, which she's now marketing.
So what does Bangs miss most?
"I indulged in the roasted goat and suckling pig a shocking amount of times," she said. "I ate more crispy pig skin than any lady should. It's amazing to serve it every night and still go home and dream about it every day."
Bangs says longtime employees Basheer Murshed and Bill Jensen are currently involved in the beverage program. Check back in with us for more details.
Update: Komi co-owner Anne Marler reached out to us soon after receiving our e-mail and said sommelier Basheer Murshed and service director Bill Jensen will be continuing in their roles and taking more creative lead in the wine program.