Raise your hand if you've heard the term arm party (it's probably a very heavy hand if you have). Coined by Leandra Medine, the quick-to-fame Man Repeller blogger, it means a large collection of bracelets, bangles, and sometimes watches, and it's all over the fashion blogosphere. Intrigued by the trend but not sure where to start? Here's a few collections to jump off from. We've curated by style (classic, boho, edgy, glam, modern, and minimalist included), but feel free to mix the different categories together to make it your own! Bracelets are credited clockwise.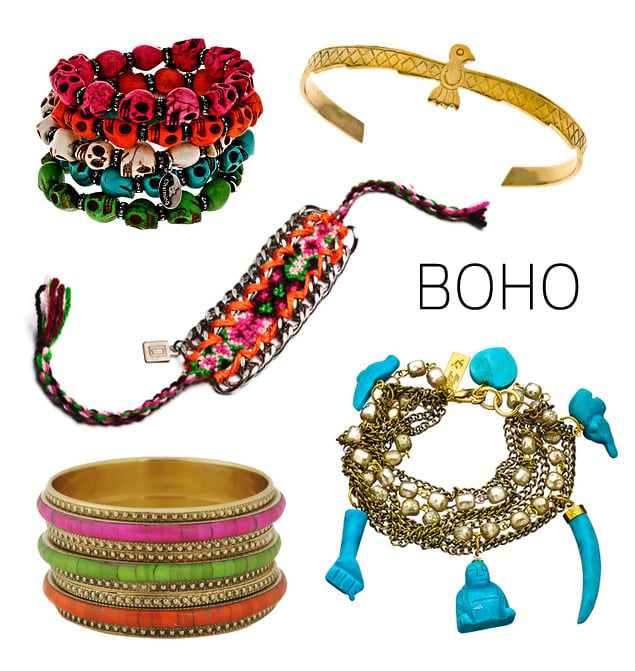 Bright colors and friendship bracelets feel effortless, and add interest when worn with a carefree outfit.
Bee Charming multicolor skull beaded bracelet, $55; Chibi brass native bird cuff, $65; Bee Charming vintage buzz turquoise pearl and chain bracelet, $55; Forever 21 color-blocked bangles, $6.80; DANNIJO Lindsay friendship bracelet, $80.
Meg Biram blogs about fashion, interiors and art on her blog MIMI+MEG.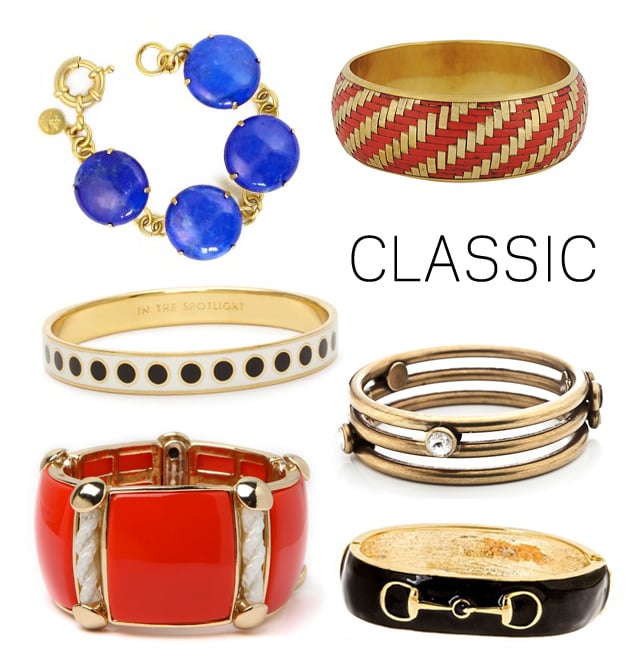 The timeless style of these simple, graphic shapes will never do you wrong. Fashion trends come and go, but you'll will be wearing these for years to come.
Loren Hope cobalt corrin bracelet, $65; Forever 21 basket-weave bracelet, $5.80, DANNIJO Mak bracelets, $195; Swell Caroline enamel horse-bit bangle, $25; BaubleBar coral rope cuff, $52; Kate Spade In the Spotlight Idiom bangle, $58.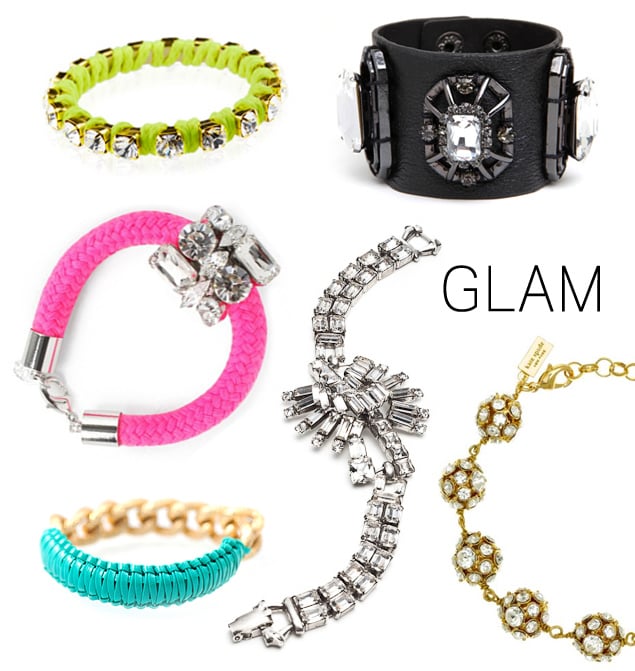 Neon accents and plenty of bling. For those of you that love anything shimmery and/or super-girly, this look is for you.
Ettika neon green and rhinestone bangle, $63; BaubleBar diamond cuff bracelet, $72; Kate Spade Lady Marmalade small bracelet, $148; DANNIJO Taylor bracelet, $370; bfrend turquoise gold chain bracelet, $45.48; Noir cord and crystals bracelet, $115.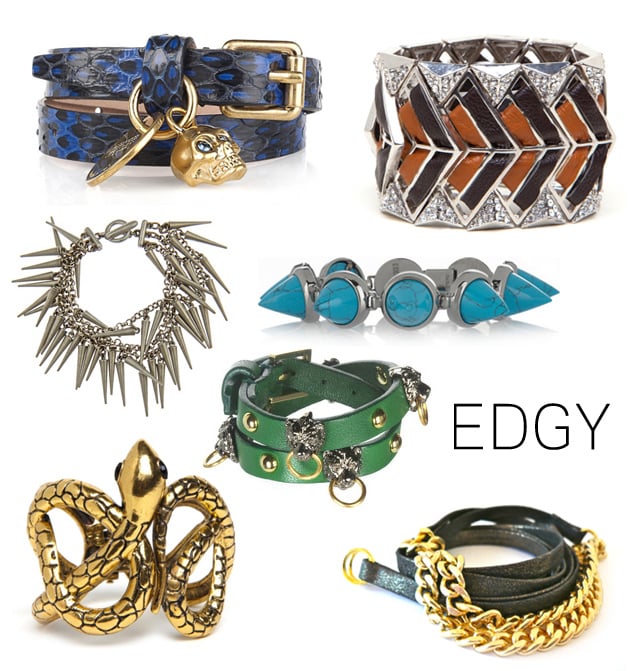 Chains, spikes, skulls, and snakes will toughen up any outfit. Pile 'em on when you're feeling especially fierce.
Alexander McQueen snakeskin wrap bracelet, $315; BaubleBar chevron punk cuff, $34; Eddie Borgo gunmetal-plated turquoise cone bracelet, $375; Fallon Green Gia leather wrap bracelet, $150; Oia Jules metallic leather wrap bracelet, $35; BaubleBar midas snake cuff, $34; Ben-Amun dangling spike bracelet, $145.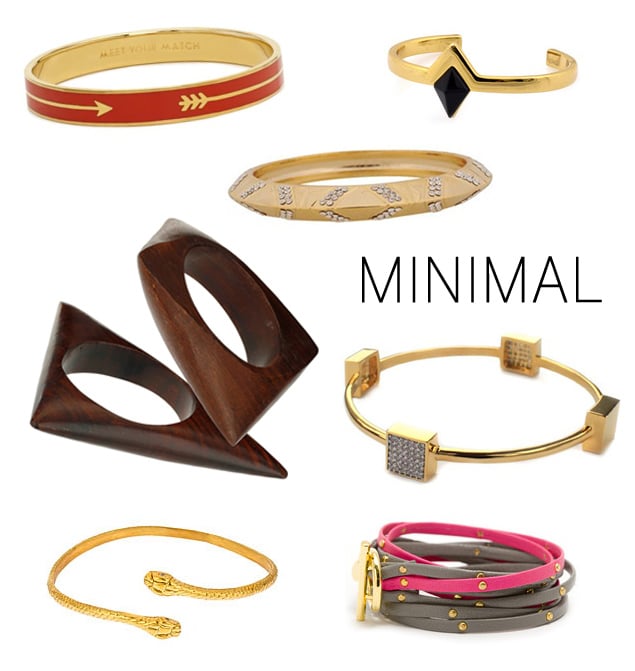 Similar to the classic collection, these sleek, simple bracelets will never go out of style. Fill out your personal arm party by pairing them with items from the other collections.
Kate Spade Meet Your Match bangle, $58; House of Harlow black triangle cuff, $70; Forever 21 rhinestone bangle, $7.80; Noir bangle with squares, $92; Gorjana Graham leather studded pink and gray triple-wrap bracelet, $110; Gara Danielle diamondback snake cuff, $512; Topshop abstract wooden bangles, $28.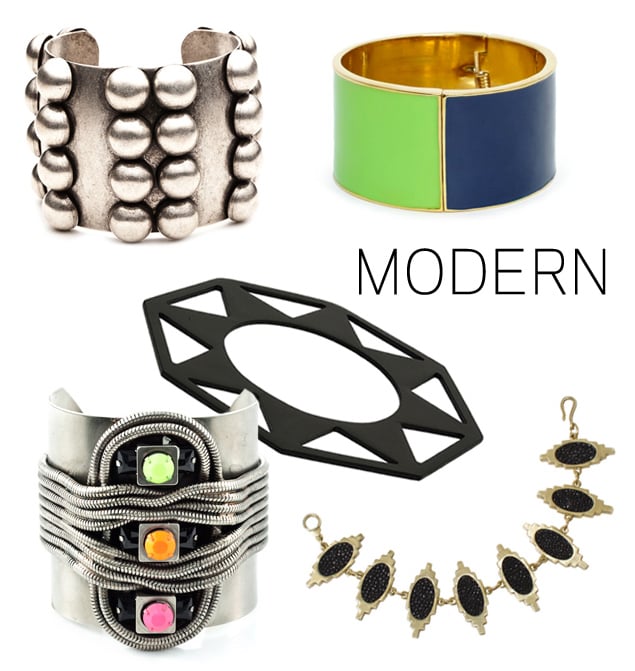 Attention-seekers, take note–all your friends will be asking where you got these unusual shapes and designs.
DANNIJO Coppola cuff, $268; Kate Spade hinge bangle, $148; Topshop cutout hex bangle, $28; Collette Ishiyama Emerald Tail bracelet, $260; DANNIJO Crosby cuff, $512.