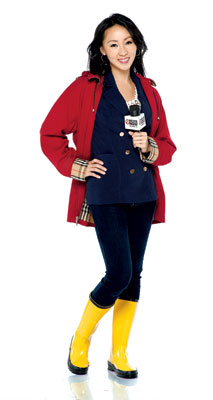 Anny Hong: Always Prepared
Anny Hong, a meteorologist and reporter for WUSA, knows how to weather a storm in style. She keeps three pairs of rain boots in her trunk–her high-gloss teal Hunter boots, a yellow J. Crew pair, and pink ones from Target–to alternate on camera.
"My gear needs to be practical," she says. "But I try and show my personality through accessories, so I want them to be fun."
Hong recommends windproof umbrellas from Totes or ShedRain. She's often on camera in a North Face jacket or a hooded red Burberry coat. Extra socks, usually from REI, and Lancôme waterproof mascara are other musts for rainy-day assignments.
Hong, 32, prefers to buy high-quality items that last. Her favorite piece, a quintessential Burberry trench, has been with her since college. "The classic design never goes out of style," she says, "making it great for the camera."
This article appears in the April 2012 issue of The Washingtonian.